The Name of the Doctor: The Prequel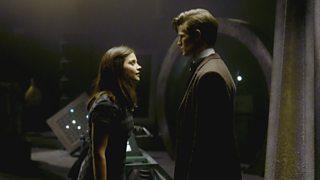 The prequel to the series finale will be available to view on this site (www.bbc.co.uk/doctorwho) after the next episode of Doctor Who finishes at 7.45pm on Saturday, 11 May. You'll also be able to watch it from that time through the BBC's interactive Red Button service.
Written by Doctor Who's lead writer and executive producer, Steven Moffat, the intriguing prequel is called She Said, He Said and stars Matt Smith as the Doctor and Jenna-Louise Coleman as Clara. It's one of the show's longest prequels and explores how little Clara knows about the Doctor... and vice versa.
Catch the return of the Cybermen in Nightmare in Silver this Saturday at 7.00pm on BBC One and then watch the prequel to the finale immediately after the end titles have rolled, either here or on Red Button. The Name of the Doctor brings the series to a thunderous conclusion on Saturday, 18 May making this a very exciting few days for anybody who has ever enjoyed the adventures of a certain mad man in a box...