Send us your questions for The Ultimate Doctor Who Fan Quiz!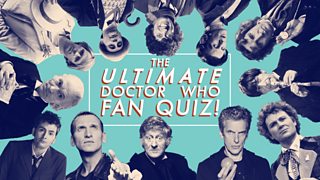 UPDATE! PLEASE NOTE THE DEADLINE FOR SUBMISSIONS HAS NOW CLOSED!
But you can play The Ultimate Doctor Who Fan Quiz: Part 1 - Modern Who and The Ultimate Doctor Who Fan Quiz: Part 2 - Classic Who NOW!
Do you consider yourself a super fan of the genius from Gallifrey? Are you an expert of inter-galactic time travel? Whether you're an old-school Hartnell supporter or a hardcore Whouffaldi shipper, we want to know what you think should be Who-wide trivia.
We call on you, our dedicated fans to relive over 50 years of Doctor Who heritage by emailing us your questions (details below). Remind us of long forgotten monsters like Axons, Wirrn and the Zarbi as well as the show's actors, locations and anything else you can think of. With your collective knowledge we will test young and old with a quiz that every Whovian should take.
We are looking for one question per entrant and as the quiz is multiple choice, you will need to provide one right answer and two wrong answers. We will be picking a selection of your questions so they can be as easy or as hard as you want, just try to think originally and creatively.
The deadline for submissions is Wednesday 1 June, at 23:59 and the chosen questions will be released in The Ultimate Doctor Who Fan Quiz on Thursday 2 June, so keep an eye out on the official website and Twitter account.
Email your submissions to thedoctor@bbc.co.uk with the following details:
• Your first name
• Your age (no age limit, but if you're under 16 please check with a parent or guardian before emailing)
• Where you're from (nearest town or city)
• Make sure the subject of your email reads 'Fan Quiz'
• Your question, followed by 3 multiple choice answers (1 right, 2 wrong, and please specify which answer is the right one!)
• There is no limit on question length, but answers shouldn't be longer than 45 characters (including spaces)
Good luck and get thinking!