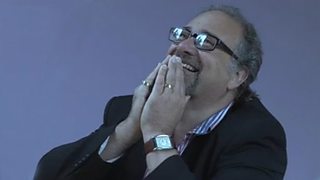 We revealed yesterday that Phil Ford is writing the second episode of the new series of Doctor Who. Although we can't reveal anything about that adventure just yet, we are able to look back on the other stories he's written for the Time Lord and his friends…
Back in 2009 he wrote The Waters of Mars with Russell T Davies. This 60-minute special featuring the Tenth Doctor won the 2010 Hugo Award in the category of Best Dramatic Presentation, Short Form. Around the same time he also wrote the animated adventure, Dreamland, again featuring the Tenth Doctor played by David Tennant. Other familiar figures in the recording booth, lending their vocal talent to the six-parter included Georgia Moffett (Jenny in The Doctor's Daughter), David Warner (Professor Grisenko in Cold War) and Stuart Milligan (Nixon in The Impossible Astronaut). If you missed Dreamland, you can still watch it now!
Phil Ford was also the lead writer for the Doctor Who: The Adventure Games and wrote City of the Daleks, Blood of the Cybermen, Shadows of the Vashta Nerada and the epic The Gunpowder Plot. You can play any of these games right now, or simply explore the worlds they inhabit in a series of interviews, galleries and fact files.
Phil has also written many stories for The Sarah Jane Adventures, including the brilliant The Curse of Clyde Langer which scooped the Writer's Guild of Great Britain's 'Best Children's TV Script Award', 2012. More recently he co-created - and has written many episodes of - the CBBC hit, Wizards Vs Aliens.
His other writing credits include Coronation Street, Torchwood and Captain Scarlet. His latest adventure for Doctor Who will be directed by Ben Wheatley and stars, of course, Peter Capaldi as the Doctor!