The Return of Doctor Mysterio: What We Know So Far!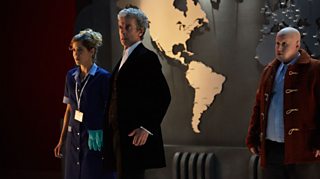 This Christmas a certain Time Lord swings back into action and guess what… We can't wait! Here's what we know about the highly anticipated Special – so far! Contains minor spoilers. Obvs.
Unless you've been trapped in the catacombs of Ribos for the past few months, you're probably aware that this year's Doctor Who Christmas Special is called The Return of Doctor Mysterio! The Doctor (Peter Capaldi) is joined once again by Nardole (Matt Lucas) and the episode is written by Steven Moffat who gave us a hint about what to expect… 'I've always loved superheroes,' he revealed, 'and this Christmas Doctor Who dives into that world!'
Justin Chatwin (Orphan Black) stars as The Ghost and commented, 'Working with the amazing people at Doctor Who has been one of the most fun and rewarding projects I've ever had the pleasure of being involved with.' Charity Wakefield (Wolf Hall) is on board as journalist Lucy Fletcher and you can see them all in action in the clip below…
The cast also includes Adetomiwa Edun (Lucifer, Bates Motel), Aleksandar Jovanovic and Logan Hoffman. We also know it's a 60 minute spesh directed by Ed Bazalgette who was previously at the helm for The Girl Who Died and The Woman Who Lived.
Judging by the clip above, the Christmas Special is set in the present day and it's been confirmed the plot involves New York being under threat from a deadly alien menace. We'll keep you updated as more information comes in but for now, here's another sneak peek into The Return of Doctor Mysterio…