Steven Moffat and Jenna-Louise Coleman Discuss Her Doctor Who Debut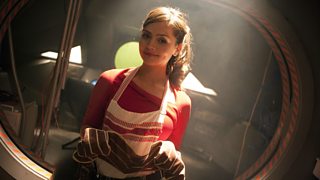 Not your average kitchen sink drama
Asylum of the Daleks was packed with surprises but one of the biggest was the appearance of Jenna-Louise Coleman who made her Doctor Who debut in tonight's episode.
Jenna-Louise will be returning as the Doctor's companion but she made her first appearance in the show tonight, and said: "Boo! Hello! Hope we gave you a good surprise! Thanks to all the fans who kept it quiet and made it so! More to come... watch this space!"
Steven Moffat, Head Writer and Executive Producer, thanked fans and the press for keeping the secret:
"I hope you all got a nice surprise when Jenna popped up in Doctor Who several months early. If so, that surprise came to you courtesy of the frankly magnificent ladies and gentlemen of the press, and of the many Doctor Who forums and blogs too. This show has been seen at four separate screenings, across four different countries and yet not one person gave one spoiler. From all of us on Doctor Who, a heartfelt thank you for helping us tell our story."
Visit the Jenna-Louise Coleman gallery now or download individual images as wallpapers, below.