The Snowmen: New Images and Info!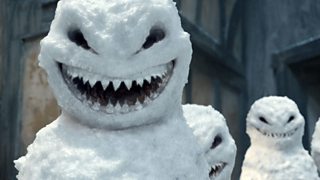 Santa Claus isn't the one who's coming to town…
We're already looking forward to this year's Christmas Special starring Matt Smith as the Doctor and Jenna-Louise Coleman as Clara. The episode, called The Snowmen, is written by Steven Moffat and directed by Saul Metzstein.
We've had a prequel to the special, a trailer and some new images, but what is the adventure about? Well…
Christmas Eve 1892 and the falling snow is the stuff of fairy-tales. When the fairy-tale becomes a nightmare and a chilling menace threatens Earth, an unorthodox young governess, Clara, calls on the Doctor for help. But the Doctor is in mourning, reclusive and determined not to engage in the problems of the universe. As old friends return, will the Doctor really abandon humankind or will he fight to save the world – and Christmas – from the icy clutches of this mysterious menace.
We'll be bringing you further information and more stunning images soon!