Weep No More… Vids to Beat the Blues!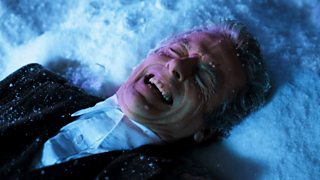 It's January and the world has been over-run by post-Festive grumps! But fear not – the Doctor and his many friends are here battle those blues away! We've assembled six videos from 2015 that always make us smile… Hopefully they'll help defeat the Invasion of the Blues!
We start with the moment Greg Davies was asked about working with snow in The Husbands of River Song… There's a pun about Christmas rapping in there somewhere, but don't worry - we're not using it!
You can guarantee laughs when Reece Shearsmith is in the mood for a giggle, even turning a question about costume and props into something funny… Here he is, making a spectacle of himself behind the scenes of Sleep No More…
No collection of vids to help beat the January blues would be complete without this corker featuring Michelle Gomez… "So, do most people just answer normally?" Yes, but where's the fun in that?
Here's Jenna being a great sport in a 'dead funny' blooper from Face the Raven!
And here's Rufus Hound quizzing Maisie Williams on location during the shoot for The Woman Who Laughed. Err, Lived.
Finally, we've a smorgasbord of smiles as we cram some of the very best bits of our series 9 coverage into just 81 seconds…