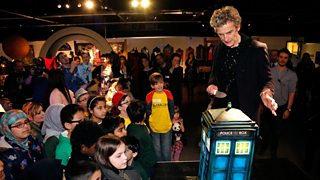 26th March 2005. A momentous day for Doctor Who. A new Doctor. A new Companion. And what a fantastic journey they've taken us on! We've spent the day celebrating the very first episode of the new era, 'Rose', and we've had an amazing response from fans across the globe.
Peter Capaldi is, of course, one of those fans. And he kicked the day off by recalling just how he felt when he sat down to watch the episode. An immensely personal video, and yet somehow Peter has captured the very same thoughts and emotions that we all experienced.
We published a very popular infographic revealing 5 things you never knew about Rose. Lots of you pointed out that you knew *almost* all of them…
In case your memory needed jogging, we also linked to a clip of the Doctor introducing himself to Rose and some galleries– behind the scenes shots (we hope the quality of our photography has improved over the last 10 years…), some TARDIS concept art, and some grabs from the episode.
Peter Capaldi celebrated 10 years at the Doctor Who Experience here in Cardiff (there's a picture from the party at the top of this page). The highlight of the celebration? Peter led the audience from the Starlight and Ty Hafan charities, and a local primary school, in a rendition of Happy Birthday, and cut a cake shaped like a Cyberman!
But the day was not really about us – we had some lovely comments from you which we've reflected in our social media summary of the day. So perhaps it's right that we leave it to a fan, @mightbeclara, to sum up what Doctor Who has meant to them: 'thank you DW for shaping me and my childhood, and teaching me the value of friendship, courage and adventure.'