A Christmas Treat From The BBC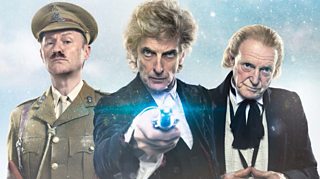 The BBC will deliver an early Christmas present to the North of England this December with free screenings of its most eagerly-awaited festive TV shows.
Fans of Doctor Who will be able to see the 2017 Christmas Special before anyone else. The adventure, Twice Upon a Time, will see Peter Capaldi as the Doctor for the last time, joined by David Bradley who reprises his role as the First Doctor, while Pearl Mackie returns as Bill Potts and Mark Gatiss guest stars as the Captain.
Fans will be able to enjoy a preview of the episode, apart from the last few moments which will be kept as a surprise until the BBC One broadcast on Christmas Day.
And in two cities, children will be able to get an exclusive preview of an animated version of the classic book, The Highway Rat. The adaptation, produced by Magic Light Pictures, is an animated version of the Julia Donaldson and Axel Scheffler favourite about a greedy rat who steals food. Viewers will be able to see it in Newcastle and Hull.
The League of Gentlemen also returns to BBC Two this Christmas with three brand-new episodes to celebrate the group's 20th anniversary at the BBC. The first episode will be shown in Hartlepool and York as part of the premiere tour.
Starting in Hartlepool and finishing just before Christmas Day in Bradford, the tour will take in eight locations across northern England to spread a little festive fun throughout the region. As well as a sneak peek of these hotly-anticipated shows, fans will also be able to pose for photos on the BBC's red carpet and with props from the programmes.
Tickets are available through a ballot which opened today (Thursday, 23 November) for 10 days. For more information about dates and venues, and to apply for tickets, visit the BBC Shows and Tours website.