Bert and Dickie: Tonight at 8.30pm.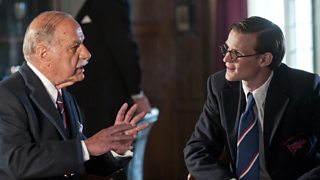 ''Well, the Silurians looked slightly different in those days...''
Just a quick reminder that Bert and Dickie, the uplifting drama starring Matt Smith, is on BBC ONE tonight at 8.30pm.
It tells the real life story of Bert Bushnell (Matt Smith) and Richard 'Dickie' Burnell (Sam Hoare) and their attempt to win gold in the double scull (a rowing event) at the 1948 London Olympics.
You can and see Matt Smith interviewed about the production and watch clips from it at the Bert and Dickie page now.