Doctor Who Double at the BAFTA Television Craft Awards!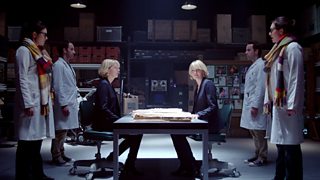 The BAFTA Television Craft Awards took place last night (27 April) in London with the world of Doctor Who winning in two categories.
The Day of the Doctor triumphed in the 'Special, Visual & Graphic Effects' category whilst An Adventure in Space and Time was given the award for best 'Make Up and Hair Design'.
The annual BAFTA Television Craft Awards seek to recognise the behind-the-scenes professionals in TV production and new media, with categories covering make-up, editing, lighting and special effects. Big congratulations to all last night's winners and nominees!
Doctor Who has also been nominated for a BAFTA Television Award with The Day of the Doctor in the running for the Radio Times Audience Award category, meaning you get to decide who wins… You can find out more about those awards, including how to vote!