Ray Holman - Costume Designer Q+A
We put Thirteen of your questions to our amazing costume designer - Ray Holman to get an insight into the Doctor's Costume.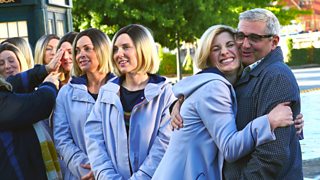 Q1. What's the story behind the ear jewellery?
A: Jodie and I decided it would be great to have a single earring. I decided it should be bespoke and so needed a jeweller to help us design and make it. We met in his workroom and the three of us discussed what the earring should represent and we decided it needed to start at the top of Jodie's ear and travel to the ear lobe. The story is that the stars are where the Doctor comes from, the chain is the journey and the hands of peace represent her love of humans. I wanted to make the hands two different colours to represent inclusivity so we decided they should be silver and gold. Jodie offered to pierce the top of her ear but we didn't think that would be necessary and the jeweller did an amazing job of crafting a piece which clips over the top of her ear then the hands go through her pierced ear lobe and the chain is attached to the back butterfly. It took about 5 weeks from the first conversation to the end result and we were thrilled with it. Question asked by: @@ShilohSkye, @JohannaNield, @SecretMsi, @spookymcslave, @tonerenilorac, @imjustatraveler, @lovelyikigai, @iampenbot, @King_Emma_, @norestforthesingersofficial and @libby_fanworks.
Q2. What was your inspiration behind Jodie's costume?
A: Jodie and I met in secret a few times. She had already been through the audition process and had time to think about what she would like to wear. She sent me a load of images and photos that she had collected that meant something to her, in particular one image of a woman in braces and trousers in a period that was hard to define. It was a black and white image and a great starting point. The next thing she said was that she likes colour and wanted to incorporate it into her Doctor costume. I went 'gulp' and starting looking for references. Question asked by: @Georgia_Heapyx, @jobaron18, @0tralala, @WhovianLife, @SecretMsi, @johnsparacio2, @ChloecEvans21 and @lxcy_m_.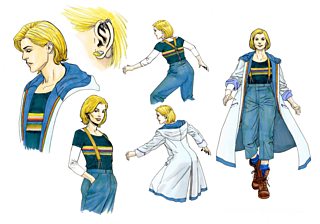 Q3. What made you pick those colours on her costume?
A: The colour is inspired from a variety of sources, one of the first photos Jodie showed me was a Coldplay album cover which was cool. She loves Coldplay and their use of colour was lovely. We also wanted to reference the colours of the sky and space and so the rainbow and the blues came into focus very early on. And in true synchronicity it also referenced the colours from previous Doctor's costumes but in a gentle way. The rainbow colours are all muted. So colour was important and each one means something including the coat lining and the lining of the sleeves. Question asked by: @joe_benno01, @starryqueeer, @RichHammond_Fan and @jenny_m_x3.
Q4. What advice you would give to an aspiring costumer?
A: I would say that if you want to design costumes then learn the craft. Learn to pattern cut, look at fashion and history and technology and work hard. If you want to work in TV and Film then train from the bottom up because that will teach you what everyone else's jobs and responsibilities are especially within costume and make up. It's very hard to get into but keep going and the more you learn the more confidence you get. Every design job is different so remember that and designing is a series of decisions that come together. Also, learn to collaborate with performers because they have to wear your designs and a set is not a catwalk. Costumes need to work not only visually but in a practical way as well. Question asked by: @InterestsChange and @LeahIsMagical.
Q5. How many pockets does her outfit have?
A: Jodie's Doctor's costume has around 6 pockets but I may have forgotten one. Pockets are very important not only for this character but for women in clothes in general because for so long in history women didn't have pockets and even today some women's trousers suits are still made without them. Question asked by: @_gryffindawn and @kittyjadeonline.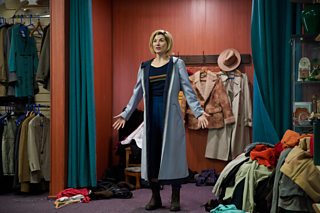 Q6. What is the hardest part of designing a characters costume?
A: The possibilities are endless when designing a costume but you start with the script, which will paint the world your designing for, it could be now, period or future. Landscape, locations and weather are also a big factor. So really it's a series of script led ideas that you put together as a designer and then start working with the actor in order to place it and make sense of it. You also have to consider fabrics and technology in order to deliver the perfect idea that makes and helps the script tell the story. Question asked by: @leeburko.
Q7. Was Jodie's costume in Episode One the same one that Peter wore in the Xmas special or was it specially made for her?
A: I did make a velvet coat that was a size between Peters and Jodie's and distress it so it was too big for her but would have been too small for him. In the end she wore his original coat and I added to the distress because she had fallen from space. I bought boots that fitted Jodie so she could run properly and also for health and safety reasons. The shirt was Peters and the trousers were a size down to better fit, the waistcoat was also the same. We deliberately and symbolically lost the ring in the regeneration scene on the TARDIS, which I was there for. Question asked by: @JamesPeaty1575.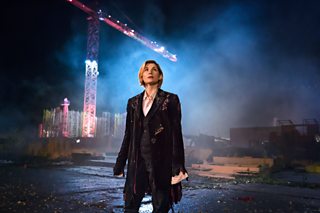 Q8. What was your favourite part about creating the costume?
A: My absolute favourite part was working with Jodie and all the secret meeting and fittings we had. It was great fun watching the costume progress each time we did a fitting. I think we met twice a week for around four weeks in secret, choosing fabrics, making toiles and fitting and refining. I have all the photos for the development of the costume and it's great to look back at them and see the journey we went on. It was fun and so collaborative and it was lovely to take over the tailors twice a week and hide away working it out. Question asked by: @angelcasgod.
Q9. Did you draw inspiration from any past Doctor's costume?
A: Our aim was to create a completely modern costume. It's hard if you try to reproduce something that's already happened, it ties you into something that may not work so consciously, so no. But on reflection I think we are both thrilled that the colours in the costume are a nod to past Doctors. Question asked by: @silverwood210, @Elliot98Taylor and @lizzieloo007.
Q10. What was the first part of the costume you and Jodie decided on having?
A: Oddly the first thing we decided on was the fabric for the trousers. I deliberately wanted to use Yorkshire mills and we met in a room at The House of St Barnabus and the walls of the room we met in were that colour and Jodie loved it, so I walked Jodie to the tailors and found that colour in a fabric swatch book which was from a company in Yorkshire. That was the very first decision we made and loved. Question asked by: @GeorgeNye.
Q11. How many different designs did you look at before coming up with the final costumes?
A: We didn't go through many different styles because we were constantly talking. I would send Jodie images I found and she would do the same to me and we know each other so well that we basically agreed. There is a drawing in which she's wearing hi-tops so we were exploring that but I found the beautiful boots and they are so soft but look so tough and practical that we both fell in love with them. Question asked by: @thedoc11th and @ashleigh.bahl.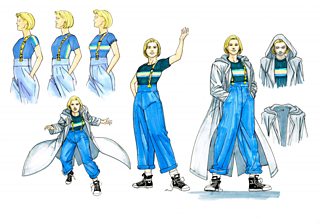 Working progress concept designs
Q12. What made you want to become a costume designer?
A: I went to Drama College and studied Theatre Design. I was better at costumes and found that it was easy for me to cut historic patterns and basic block patterns so I concentrated on costume in my final year. That was it I was hooked, then the BBC took me on and trained me as a dresser and I worked my way up to designer. Question asked by: @CheekyMonkeyEgg.
Q13. What part of the costume was chosen by Jodie?
A: Everything you see her wear is a collaboration. I would never enforce or impose anything on any actor but what I do is advise and take ideas and make them work. So all of Jodie's costume is chosen by her but with me at her side to guide her. It's the best job in the world. Question asked by: @warr10rz.
Thank you to all our fans who submitted questions on the official Twitter and Instagram channels.