Anatomy of a Finale: Download the Scripts for Eps 11 and 12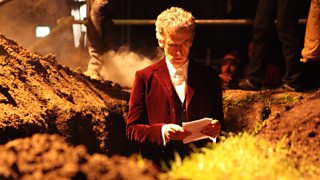 Heaven Sent and Hell Bent were two wildly different episodes. Both unique, bold and startling they combined to create a two-part adventure – a hybrid, you might say – that brought Series 9 to an unforgettable finale.
BBC iPlayer users can watch both episodes online but we're also giving you the chance to download and print off the scripts for the stories… Written by Doctor Who's BAFTA-winning show runner, Steven Moffat, they offer a fascinating insight into the construction of a major Doctor Who adventure. You can access the scripts for Heaven Sent and Hell Bent now!
In addition, we're also releasing some previously unseen storyboards from Hell Bent, illustrating how the demands of the script evolve into the scenes that we see in the finished episode.
And if all that wasn't enough, don't forget we have loads of behind the scenes videos for Heaven Sent and Hell Bent plus fact files for both ep11 and ep12.
In short, there's everything you could want to know about the finale without actually entering the Matrix!