Michelle Gomez nominated for BAFTA!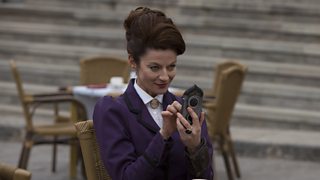 Michelle Gomez has been nominated for Best Supporting Actress in the 2016 British Academy Television Awards. This is the first ever BAFTA TV Supporting Actress nomination for Doctor Who.

Michelle has been nominated for her amazing portrayal of Missy and as all you Doctor Who fans know, she thoroughly deserves it. Her reinvention of the Master has captured the hearts of fans and her brilliance as an actress has shone through in her on-screen performances. Any scene with Missy is a scene to remember!
There are too many great Missy moments to show them all, but here is a video montage with some of our favourites…
The British Academy Television Awards rewards the very best in Television broadcast on British screens during the preceding year. The Awards in 2016 will take place on Sunday 8 May at the Royal Festival Hall in London.
Good luck Michelle!