One day only! Put your questions to Doctor Who's Executive Producers! (Updated)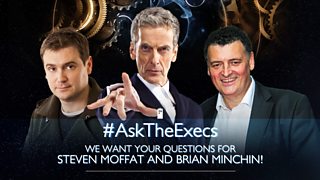 Update! The deadline for submitting questions has passed, but big thanks to everyone who told us what they wanted to know! We'll be bringing you the answers from Steven Moffat and Brian Minchin very soon so watch this space!
'Ask the Execs' is back! Steven Moffat and Brian Minchin are Doctor Who's executive producers – the people at the helm of the show, overseeing everything to do with the Time Lord's ongoing adventures, deciding the Doctor's destiny and guiding his story to the screen. This is your opportunity to ask them questions about Peter Capaldi's first season, how the new series is coming along or perhaps something specific to their roles.
We'll pick some of your best questions and bring you the execs' answers very soon. So, if you can't get to San Diego for this year's Comic Con – don't worry! Let us put your questions to the execs and bring you their answers online. But here's the bit we can't stress strongly enough: we're looking for the most interesting and imaginative questions!
It's essential to avoid questions like what evil scheme does Missy dream up in the new series, or the details about how Osgood returns... These secrets will unfold when the new episodes air, later this year. We want questions that only Steven and Brian can answer… It could be about their best moments on set, favourite (or least favourite!) memories, monsters, earliest recollections of the show or how they decide what will happen to the Doctor and Clara…
But you have to move with the speed of a Raston Warrior Robot as we need your questions by noon, tomorrow (Tuesday, 30 June). Just email your questions to thedoctor@bbc.co.uk or tweet us at @bbcdoctorwho using the hashtag #AskTheExecs.
We're looking forward to hearing from you… Good luck!
Please note the deadline for submitting questions has passed… Many thanks to everyone who joined in!