Doctor Who: The season has finished but the end has been prepared for...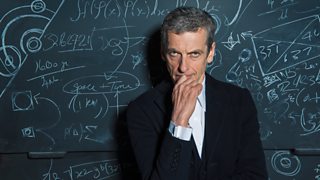 The Doctor returns next month for the Doctor Who Christmas Special… We already know it features Nick Frost who popped up at the end of Death in Heaven as Santa Claus, and as we previously reported the Christmas episode will also have several other big name guest stars joining Peter Capaldi!
But you don't have wait until the festive period to rejoin the Doctor… As usual there will be a Doctor Who presence in this year's BBC Children in Need. The annual appeal night, packed with stars, surprises and some great comedy sketches, will be on BBC One this coming Friday, 14 November. Make sure you're watching to catch a treat for Doctor Who fans!
Right now you can watch a brand new video in which Ingrid Oliver (Osgood) talks about her character's return in the series finale, and elsewhere we celebrate Danny Pink's adventures. In fact we've hundreds of videos that offer everything from clips and prequels to exclusive interviews and introductions to your favourite episodes.
This series saw the launch of Doctor Who Extra and all 12 of these behind the scenes specials are available to view right now. And the Twelfth Doctor's first series is available in its entirety on BBC iPlayer, but hurry – it won't be there for much longer…
We've quizzes and some classic games available on this site plus a brilliant new game voiced by Peter Capaldi and written by Phil Ford: The Doctor and the Dalek. And finally, why not spend some time looking into the Doctor's history? We've a vast archive that's crammed with clips, fact files, galleries and much more and we cover every single Doctor Who adventure from the very first episode right up to Death in Heaven.
Don't forget to follow us on Twitter and Instagram and we look forward to being able to say, once more, 'The Doctor will see you now…'