The 2017 Series… Returning Writers, Cast Updates and More!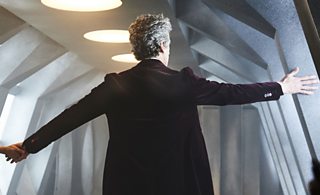 Back for the new series...
Next year's series of Doctor Who has reached its fourth recording block, with Episodes 5 and 9 going shooting in Cardiff during November. The BBC Wales production team has revealed to DWM some exclusive news about these two episodes.
The writer for Episode 5 is Jamie Mathieson, who has previously written three episodes of Doctor Who: the DWM season-poll-topping Mummy on the Orient Express (2014), Flatline (2014) and (with Steven Moffat) The Girl Who Died (2015).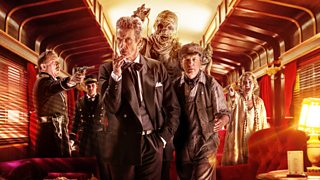 Jamie's first episode was the thrilling, Mummy on the Orient Express.
An excited Jamie tells DWM, "I'm back baby, and beyond stoked to be once again putting words in the mouths of the TARDIS crew. So what can I tell you? Well, my episode this year is very, very scary. Like, seriously so. 'Let's go behind the sofa and just stay there until it's over' scary. It's got more shocks and tense scenes than anything I've ever written. And that's coming from a man who once wrote an episode of My Parents Are Aliens. It's also a taut thrill ride, a gag fest, a pitch black satire and, for the first time – [notices Steven Moffat approaching with cosh marked 'no spoilers'] – I'm writing for Bill and Nardole!"
The guest cast for Jamie's episode includes Kieran Bew, Justin Salinger, Peter Caulfield, Mimi Ndiweni and Karen Brayben.
Episode 9 of Doctor Who's 2017 series is written by Rona Munro, author of the very last Doctor Who story of the show's original 26-year run – the seminal and highly acclaimed 1989 Seventh Doctor adventure Survival. Since then, Rona has gone on to become one of the most successful writers working in the industry, with countless theatre, television and radio credits to her name.
Watch a moment from Rona's first Doctor Who adventure: Survival.
Speaking to DWM, Rona reveals, "Writing Survival was my dream job, but it was a mournful time in the show's history. This has been a very different experience. There's more of everything; people, resources, confidence, success... but the same constantly renewing and indefinable wonder that is Doctor Who. When I was very small and watching the First Doctor, I had a special cushion known as 'Rona's Doctor Whocushion'. I would hide my face in it when the Daleks or other monsters appeared on screen! The Eaters of Light is my version of other stories that have haunted me for almost as long."
Joining the regular cast for Rona's episode are Rebecca Benson, Daniel Kerr, Juwon Adedokun, Brian Vernel, Ben Hunter, Aaron Phagura, Sam Adewunmi and Billy Matthews.
Once these episodes are in the can, the series reaches the mid-point of shooting, with Episodes 6, 7, 8, 10, 11 and 12 still to go before the cameras. The new series of Doctor Who – starring Peter Capaldi as the Doctor, Pearl Mackie as Bill and Matt Lucas as Nardole – will hit TV screens in spring 2017.