Slipknot's Corey Taylor Roars into Action in this Week's Doctor Who!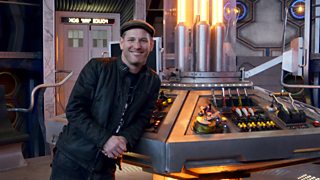 Corey Taylor – best known as the lead singer in the US rock band Slipknot – lends his unique vocals to the Fisher King, a terrifying new foe in this week's episode of Doctor Who.
Corey is a big Doctor Who fan and was delighted to help make the Fisher King extra scary by recording roars and screams that can be heard in Before the Flood which starts on Saturday at 8.25pm on BBC One. He described the experience as 'awesome' and took time out to visit the TARDIS (above) during his time at the BBC's Roath Lock Studios.
'We needed an awesome roar for the Fisher King,' producer Derek Ritchie explained. 'We asked Corey if he might like to do the honours… He was completely up for it!'
'He has one of the most well-known screams in the history of music,' Derek added. 'We now have the most incredible roar for our incredible monster! He now sounds as terrifying as he looks!'