The Doctor is Back: Today at 5:45pm!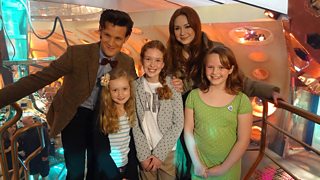 Good as Gold!
A new Doctor Who mini-adventure will be screened today on CBBC!
Back in January, BBC Learning in collaboration with Blue Peter announced this year's Script to Screen competition. Launched by the Doctor himself, the challenge was simple. Schoolchildren aged 9-11 should write a short Olympics-themed script full of the usual Doctor Who ingredients including humour, drama and a touch of magic!
There was a huge response to the competition and Doctor Who's Executive Producer, Caroline Skinner, praised the quality of the entries, saying: 'We loved reading all of the scripts from schools across the UK and the standard of entries was truly outstanding. It was a difficult, but a tremendously fun task to choose a winner and it was just brilliant to see so many children being creative in developing an adventure for the Doctor. We hope all fans enjoy this special one-off mini episode!'
The winning script was chosen by Steven Moffat, lead writer and Executive Producer of Doctor Who, Katy Jones, BBC Learning Executive Producer and Caroline Skinner. Appropriately enough for an Olympic-themed adventure, it's entitled Good as Gold and stars Matt Smith as the Doctor with Karen Gillan as Amy Pond.
We can't reveal more about the story at this point except to say it's a hugely enjoyable one-off, runs for approximately three minutes and features the return of the Weeping Angels…
Blue Peter will also include a behind-the-scenes item on making the new mini-adventure, so if you're missing the Doctor and can't wait until the new series begins, make sure you check out CBBC, today at 5:45pm.
And talking of the Olympics, we'll be relaying some interesting news very soon, so stay tuned…