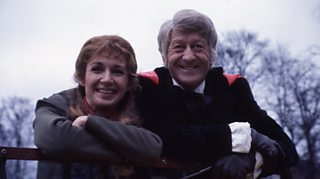 Caroline John with the Third Doctor, Jon Pertwee.
It's with great sadness that we confirm the death of Caroline John who played the Doctor's companion, Liz Shaw, in 1970. She passed away earlier this month.
Steven Moffat, Doctor Who's lead writer and Executive Producer, commented, 'Caroline was a brilliant actress and in her role as Liz Shaw, a tremendous co-star for Jon Pertwee in his first year as the Doctor.  She was not just a sidekick but a scientist in her own right and a match for the universe's number one know-all. The Doctor's companions should never be his assistants - they're the people who keep him on his toes, and that's what Caroline did.  From everyone at the show, our thoughts go out to Caroline's family.'
Caroline starred in Doctor Who throughout Jon Pertwee's first season, meaning she was an ever-present at a crucial time in the show's history. Not only were viewers getting used to a new and very different Doctor, they now had adventures set exclusively on present day Earth and in colour for the very first time! Caroline helped ensure the new era got off to a great start and years after her exploits with the Time Lord, the character of Liz Shaw – feisty, independent and a great friend to the Doctor - remained well-remembered and much-loved.
Caroline John was born in 1940 and studied at the Central School of Speech and Drama. She was an accomplished stage actress, touring with the Royal Shakespeare Company and the National Theatre and her television credits include Z Cars, Agatha Christie's Poirot, A Perfect Spy and the BBC's 1981 adaptation of The Hound of the Baskervilles, playing opposite Tom Baker. She also returned to the world of Doctor Who making brief appearances in The Five Doctors and Dimensions in Time.
In recent years she appeared in the hugely successful Love Actually and to the delight of many fans she recorded DVD commentaries for most of her Doctor Who episodes. She will be greatly missed.
Caroline John, 1940 – 2012.