An Adventure in Space and Time: 'A Wonderful Tribute'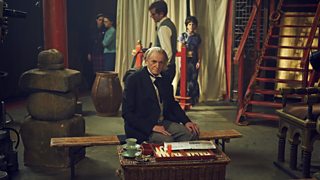 An Adventure in Space and Time is on BBC Two at 9pm on Thursday, 21 November but it received a special advance screening at the British Film Institute last night.
The drama explores the origins of Doctor Who and its early days when the Doctor was played by William Hartnell. The actor's granddaughter, Jessica Carney, saw An Adventure in Space and Time and was clearly delighted, calling it, 'a wonderful tribute'. She praised David Bradley, who plays Hartnell, and thanked him 'for playing my grandfather so wonderfully'.
You can read more about the screening at BBC News online or check out our interview with the drama's writer, Mark Gatiss.