The 2015 Doctor Who Christmas Special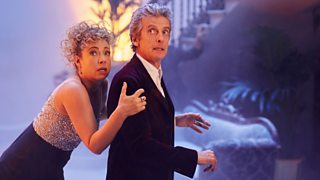 We're delighted to confirm that Greg Davies and Matt Lucas will be joining Peter Capaldi and Alex Kingston in this year's Doctor Who Christmas Special!
Greg Davies is the writer and star of Man Down and his appearance in BBC Three's Cuckoo earned him a BAFTA nomination for Best Male Performance in a Comedy Programme. He played 'Mr Gilbert' in The Inbetweeners and is also a critically acclaimed stand-up comedian.
Matt Lucas is a BAFTA TV Award winner who shot to prominence as George Dawes in the anarchic game show, Shooting Stars. He went onto achieve huge success alongside David Walliams in shows including Little Britain and Come Fly With Me. He's also featured in hit movies like Shaun of the Dead and Bridesmaids.
So, that's the cast… But what the Doctor will be up to this festive season? Well…
It's Christmas Day on a remote human colony and the Doctor is hiding from carols and comedy antlers. But when the Time Lord's help is requested he finds himself recruited into River Song's squad and hurled into a fast and frantic chase across the galaxy! King Hydroflax (Greg Davies) is furious and his giant robot bodyguard is out-of-control and coming for them all! Will Nardole (Matt Lucas) survive? And when will River work out who the Doctor is?
All will be revealed on a starliner full of galactic super-villains and at a destination the Doctor has been avoiding for a very long time…