Doctor Who Fan Fiction: Your Chance to get Involved!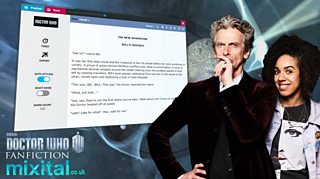 The universe of Doctor Who is an infinite expanse of exciting adventure. And now you can join in and let your creativity shine by writing and sharing stories on the Doctor Who Fan Fiction site. It features advice from the show's Lead Writer and Executive Producer, Steven Moffat, and you'll find – and get the chance to join – a supportive, creative community.
When you're writing a Doctor Who story, you're in charge. You can finally make all the fantastical adventures that you always wanted to happen! Will the Doctor be at the far edge of the universe or traversing the London sewers? What foe will cause the peril? And how will the story resolve? Write great stories that make the readers desperate to find out what happens next!
A good outline can really help when writing fan fiction. A dramatic arc usually features:
· A beginning - setting up the scenario and character motivations.
· The opening conflict - an occurrence that sets the Doctor off on a quest.
· The middle - the core of the quest where the story is fleshed out and the stakes are raised.
· Everything is lost - the lowest point before the story resolves.
· The end - The story comes to a resolution where the Doctor triumphs
Get writing your stories now on the Doctor Who Fan Fiction channel on Mixital. Some of the best stories will be featured, so give it a go! Good luck!