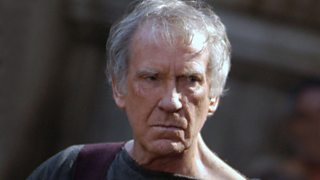 David Warner, pictured above in Ancient Rome: The Rise And Fall Of An Empire.
It's been confirmed that the mighty David Warner is returning to the world of Doctor Who and stars in an episode of the new series.
David's previous credits include The Omen, Titanic and Star Trek VI but Doctor Who fans will remember him as the voice of Lord Azlok in the animated Tenth Doctor adventure, Dreamland. During the recording of that story we caught up with him and talked about Doctor Who, plus we got David Tennant's thoughts on David Warner.
You can see the interview now or remind yourself of what a fantastic villain he made in Dreamland!