The Adventure Games: An Interview with Phil Ford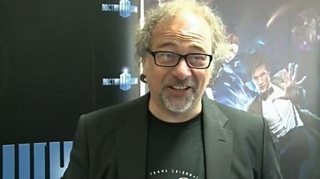 The award-winning writer, Phil Ford.
Next week it will be two years since the launch of Doctor Who: The Adventure Games and so we caught up with Phil Ford, the man who wrote all but one of games. In the first part of this exclusive interview, Phil told us about the enemies that didn't quite make it and how Guy Fawkes really died…
Looking back over the past two years, what are your strongest memories of your involvement with The Adventure Games?
Phil Ford: Looking back, my strongest memory of the last two years – as with everything else I write – is the first time I've seen the finished project. I think seeing your script turned into something action-packed, thrilling, funny and maybe scary on a screen, whether that's a TV screen or a computer monitor, is what it's all about. And this was something special. I'd done animation before, but never as part of a computer game.
Which was your favourite to write?
PF: It's hard to pick a favourite, because all of them were such fun and look so amazing. But because most writers might never get a chance to write the Daleks or the Cybermen and I wrote for them both, one after another, I would have to say City of the Daleks and Blood of the Cybermen were my favourites.
Were there any plans to bring back enemies that didn't make it?
PF: It's no secret, because I've said it so many times in so many places that I'd love to bring back the Sea Devils and for a short while we did talk about using them in the story that became Shadows of the Vashta Nerada.
The Gunpowder Plot is incredibly rich in historical detail that really brings the story to life. How long did it take you to research and write?
PF: The Gunpowder Plot was a great story to write. It's history and I love history. More than that, it's one of those stories that everyone knows – or at least think they know. We did a fair bit of research – well a lot of it was done by Gary Russell, who directed it, and we had input from the BBC's education department. I'd be lying if I said I did much more than look at Wikipedia. But we did do research, it was important to preserve the historical facts. Even if Sontarans and the Rutan Host weren't necessarily historically accurate!
You say it's a story people 'think they know'. Whilst finding out about the Gunpowder Plot, what fact surprised you most about that period or the plot?
PF: I suppose the most surprising fact about the whole story that came to light in researching The Gunpowder Plot was that Fawkes – despite the legend – was never hung drawn and quartered. As Fawkes was led to the gallows, he actually jumped from the ladder and broke his neck.
Who are your personal favourite monsters and why?
PF: My personal favourite monsters of all time are probably the Cybermen. But I also love the Vashta Nerada, that whole idea of there being something in the shadows waiting to eat you is just classic horror. And who can't list the Daleks among their favourites?
Big thanks to Phil Ford for sharing his memories. We'll be bringing you the second part of the interview soon.
And don't forget, you can find out more about the games or download and play them now!