Segun Akinola – Composer Q+A
We put Thirteen of your questions to our brilliant composer - Segun Akinola to get an insight into the music of Doctor Who.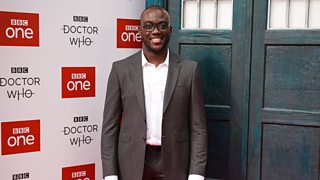 Do you have any advice for aspiring musicians?
Work hard, be the very best you can be. Be friendly to everyone and always be kind. Put your work online, go out and meet people. Know everything you can about the business of music. Never forget your love of music and what got you started in the first place! Question asked by: @HarryGoodman and @JoeWorthy17.
The new theme is very reminiscent of the original theme, is there a reason behind this?
Absolutely! With this series we took the opportunity to take a fresh look at the music, including the theme and I was really keen to go back to the original theme and to use it as an integral part of the new arrangement. Question asked by: @CallanMac, @JollyMarcus, @DoctorDude90s, @EMS_productions, @roxitiger, @jeevanjohn20014, @DrWhoSpace and @sanmibor.
Does the 13th Doctor have her own unique theme?
Yes! The first time you hear it clearly in episode 1 is during the crane sequence (in this moment it's sung). You next hear it clearly when the Doctor talks to the team before realising she needs new clothes (it's sung here too) and then again whilst she's in a store choosing clothes. A variation of it is used earlier when she's making her sonic and then there are a number of other, sometimes subtle, references throughout episode 1 and 2. Question asked by: @ MikeyMcDonagh, @TheWiseWabbit, @Donhbankz2, @Sp0rtz_Fan and @mekhi_powell.
What was your inspiration for the music this series?
I really wanted it to be a diverse musical palette that took inspiration from various areas so musically, there are a lot of influences for this series. Everything from Adele and Imagine Dragons to Iannis Xenakis and Georg Friedrich Haas to the Radiophonic Workshop. Question asked by: @StetsonDoctor, @TheWiseWabbit, @DeltaStudios24, @_WolfieVII, @Nalinee11398249, @tatioldfield, @blogging_dalek, @listenthemaster and @WhovianLife .
How does it feel to be scoring Doctor Who?
It's the BEST feeling in the world!!! I'm genuinely having the most amazing time working on the series with everyone. It's so much fun and the fans have been so positive and supportive of the new direction we've taken the series in. Question asked by: @WhoviVortex, @VortexiaTweets, @LucRSquared, @aiden_gooch and @TinyTardis_.
How has working on Doctor Who been in comparison to previous work you've done?
It's the longest series I've done so far so there's much more music to write and it's of course a global brand. From a musical perspective, it's been so enjoyable to be as creative as possible and to work on stories that take us, as viewers, to all sorts of wonderful and unexpected places. Question asked by: @NotesFromRuth.
What do you wish the Doctor's theme to convey and will we hear variations of it?
My initial conversations with Chris Chibnall about the Doctor's theme involved us talking about how she's heroic, hopeful and warm so I hope that's what everyone feels when they hear her theme. Question asked by: @Gallifrey5, @JDWhovian and @jodiequotepic.
What was the biggest challenge when approaching the new score?
Figuring out where to go next! The music was approached with a completely clean slate and with no strict rules about what it could or couldn't be. Myself, Matt Strevens and Chris Chibnall were all looking to make it a modern score with emotion at the heart of it so it was a case of coming up with ideas, making sounds, sampling instruments and experimenting to find the new direction. Question asked by: @ChadbourneMatt and @jenkins_iwan.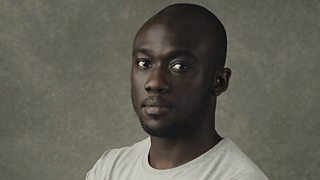 If one song had to be played every time you entered a room, what would you want it to be?
Monday: Snarky Puppy 'Shofukan'
Tuesday: Ravel 'String Quartet in F Minor' Wednesday: Adele 'When We Were Young' Thursday: Michael Jackson 'Billie Jean'
Friday: Foo Fighters 'The Sky Is a A Neighborhood' Saturday: Davido 'Aye'
Sunday: Lauren Daigle 'You Say'. Question asked by: @nancyorford.
What score composers have influenced you?
So many: John Powell, Daniel Pemberton, John Williams, Jerry Goldsmith, Hans Zimmer, Steve Jablonsky, Michael Giacchino, Steve Price, Trent Reznor, Atticus Ross, John Adams, Karl Jenkins, Mozart, Haydn, Stravinsky, Fumiko Miyachi, John Adams, Steve Reich, Mica Levi, Michael J. McEvoy, James Newton Howard, George Gershwin, Quincy Jones, Georg Friedrich Haas, Iannis Xenakis, Ryan Amon, Alan Silvestri, Holst, Ludwig Göransson, Brian Tyler and many, many more! Question asked by: @MarkLoafers, @chedaki63 and @warr10rz.
What kind of Music/Artists do you like listening to?
I listen to different music depending on what I'm in the mood for. Not long ago it was the likes of Snarky Puppy, Banda Magda and others, recently it's been a lot of contemporary classical composers and next week - who knows?! Question asked by: @karlroche58.
When writing the themes for specific characters, do you prefer seeing the actor inhabiting the role on screen, or character written down? 

Both can be incredibly helpful. I definitely like to write initial themes based on the script and/or the writer/director's ideas behind the character and then I'll adapt them if necessary after seeing the character, but usually the writer/director hits the nail on the head with their description. Having said that, seeing a character can be incredibly useful. Ryan's theme is a good example of this because seeing Tosin in action when I went to a day of filming really influenced how I approached his theme. Question asked by: @erthica.
What made you choose a career in music?
My love of it. As a young teen I was trying to figure out what I wanted to do and I was focused on a number of very technical careers. I wrote a few down on a piece of paper and went out. When I came back, my sister had written "follow your heart" on the bottom and immediately I knew what my heart wanted to do: music. Question asked by: @JBchannel101.