Hugo Awards: The Doctor's Success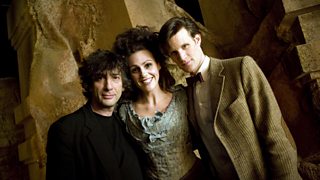 Neil Gaiman, Suranne Jones and Matt Smith on the set of the award-winning The Doctor's Wife.
The 2012 Hugo Awards were presented earlier this week and The Doctor's Wife triumphed in the Best Dramatic Presentation, Short Form category.
The episode was written by Neil Gaiman and directed by Richard Clark and its success at the awards makes it the sixth Hugo won by Doctor Who since its return in 2005.
Neil Gaiman collected his award and later wrote, 'I flew back to Albany, while my Hugo was taken home without me in a TARDIS-blue car with the license plate IDRIS. Can anything be more appropriate?'
Congratulations to Neil Gaiman and everybody involved in The Doctor's Wife. You can enjoy clips from the adventure and watch videos of Neil discussing the episode now!