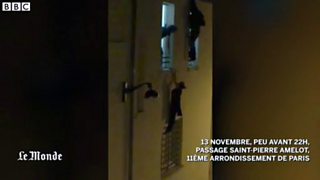 A former BBC producer once said: "I'm not fond of the term 'user-generated content'. Our audiences aren't passive users, and they don't 'generate' anything."
On Wednesday this week eyewitnesses to the police raids in Saint Denis, Paris, took to their smartphones to record and publish a huge amount of raw footage from the scene. Many of them, including journalists, decided to live-stream events via Periscope and - thanks to some swift verification work by our UGC team - much of this footage was cleared to run on our continuous TV network through the course of the morning.
The large-scale use of vertical video shot via smartphones has become more ubiquitous over the past year and, as a broadcaster, we need to be prepared to run with it even when it doesn't sit naturally on our TV screens.
The terrorist attacks in Paris and their aftermath happened less than a year after the Charlie Hebdo shootings in the city, but were of a different order in terms of media complexity.
The 13 November attacks were at five different locations and random acts with no identifiable target, unlike the shocking killings at the magazine offices and supermarket in January. Amid early confusion, there was (as is often the case in these breaking news stories) a lot of misinformation on social media – rumours of new attacks and suicide bombs that turned out to be false.
There were also many more eyewitnesses to these attacks and an enormous volume of tweets, Instagram photos and videos and YouTube videos, accurate and otherwise, including postings by people caught up in the attacks. A particular lesson from Saint Denis was that it pays to follow the right people on Periscope.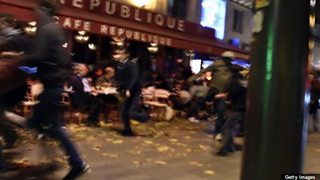 It is 10 years since BBC News created its User-Generated Content (UGC) Hub. And it's a common misconception that a decade ago reporters were always in the right place when news broke. We were as reliant on eyewitnesses when the Boxing Day tsunami hit in 2004 as we were during the Nepal earthquake earlier this year, and in Paris this week.
Back in 2005 email and messageboards were our currency. Now smartphones, private messaging and live-streaming apps, geolocation software and a plethora of social media networks have redefined the challenge of searching, discovering and verifying UGC.
It's also brought a host of new issues to news organisations. How should we train and equip staff to monitor, filter and cope with the barrage of raw and often graphic images they see? Should it be the responsibility of one team or of everyone across a news organisation to source and verify UGC? If so, how do we go about achieving this cultural change in a newsroom?
Do we take our duty of care seriously enough when we are soliciting contributions from members of the public? And, just as we have outlined editorial standards and guidelines for our TV, radio and online journalism, is it time to adopt a code of conduct for news organisations handling eyewitness media too?
There have been a number of clear UGC milestones:
Boxing Day tsunami, 2004
The BBC received thousands of unsolicited videos, mobile phone pictures and eyewitness accounts. Facebook was in its infancy; Twitter wasn't born; and much of the material we received was sent via email and mobile phones to relatives, who sent it on to news organisations. A week after the disaster, BBC News Online had received 50,000 emails and our messageboard recorded around 400,000. It was the tsunami that gave rise to the UGC Hub and the line between audiences and traditional journalism became less distinct.
London bombings, July 2005
Within minutes of the London attacks our UGC inbox was flooded with messages, including one from Alexander Chadwick. His pictures showed passengers walking down an Underground tunnel towards the light. Mr Chadwick had emailed it to yourpics@bbc.co.uk and it became one of the iconic images of the day.
We received 22,000 emails and text messages; 300 photos - 50 within an hour of the first bomb going off - and several video sequences. We had reached a tipping point in our news journalism: eyewitness content was defining the story.
Buncefield oil depot explosion, 2005
Unlike the 7/7 bombings, there were thousands of eyewitnesses to the huge Buncefield fire. By lunchtime we'd had 5,000 images – 10,000 by the end of the day.
Buncefield helped shape our thinking around safety. To what extent should we be encouraging members of the public to send us footage in an unfolding and potentially dangerous situation? We needed to adapt our 'calls to action' to discourage risk and underline our duty of care.
Hudson River plane crash, 2009
Twitter users broke the news around 15 minutes before the mainstream media. The first recorded tweet about the crash came from Jim Hanrahan, aka Manolantern, four minutes after the plane went down. He wrote: "I just watched a plane crash into the Hudson Riv [sic] in Manhattan."
Janis Krums used his mobile phone to take a dramatic snap of the downed plane and uploaded it to Twitpic. "There's a plane in the Hudson," Krums tweeted. Response to his dramatic image crashed the Twitpic service.
Protests, riots, 'Arab Spring'
Twitter was enormously helpful to us during the Iran election protests in June 2009. You may remember the influence of Blackberry Messenger during the London riots of 2011, and few can forget the part played by a host of social media and blogging platforms throughout that year's Arab uprisings.
These momentous news events heralded a new focus on verification and trust. The volume of UGC contributions was indisputable, and so was the possibility of news organisations being duped.
And now…
Flashy geolocation tools, social media aggregators, multi-search dashboards and browser extensions help us sift through UGC on breaking and developing news. Geofeedia, Echosec, Banjo, Dataminr, Storyful, Facebook Signal… I could go on.
But the big challenge is to get inside closed networks or groups, to win the trust of people who are close to a story but unwilling to 'go public' on it, or who simply choose to inhabit a private space.
Many of our most timely UGC contributions have come from private services. Hong Kong protestors turned to Firechat to protect their identities when Instagram became unavailable during the 2014 umbrella revolution. And WhatsApp has played a dominant role in supplying us with contributions on breaking stories over the past year – from the Nepal earthquake to last month's Ankara bombings.
We also need to be mindful of 'UGC laundering' - dissemination of content which is falsely geolocated as it's passed from private to public networks - and of the increasing sophistication of those intent on distorting images to mislead journalists. Extreme weather photos and pictures of destruction and destitution are a particular target and occupy much of our time.
Another issue is the increasing glamourisation of UGC. One particular case, of the 'Syrian boy hero', was exposed as a film stunt thanks to the sharp eyes of our UGC Hub.
But how much time and resource can we afford to spend on uncovering the truth? Are we as invested in the search and verification tools as we are in training our staff across newsrooms to appreciate and understand the risks of UGC fakery? And finally, perhaps most importantly, do we have enough safeguards in place to help those who work with UGC on a regular basis cope with the distressing and disturbing material they see?
It's this final point that I feel is most serious and necessary for us to unpick. In the early days of our BBC UGC Hub the focus was almost entirely on audience interactivity. It was important for us to provide our audiences with an ongoing opportunity to comment on preselected or breaking news stories - to 'have your say'.
Today we try to combine this focus on audience participation with a constant vigil across the social web. We dedicate resources on a day-to-day basis, led by a 'live and social producer', to ensure we're continually monitoring a range of social media channels.
In practice, this means we have pushed our staff to the frontline of never-ending breaking news stories, where trauma and distressing content is often a primary focus. We ask them to shoulder this responsibility on behalf of ALL their colleagues.
Through training and experience, our UGC staff are well equipped to truth-test news that emerges first on social media. There have been some mistakes and near-misses along the way, as hoaxers have become ever more sophisticated, but we have developed an excellent methodology for approaching eyewitnesses and clearing UGC footage.
There's little doubt that the sourcing and verification of UGC will remain a vital part of our news operations for the foreseeable future. It's also undeniable that we will continue to need the expertise of the UGC Hub in this field. However, in an age where an understanding of social media content and conversation is an integral part of every journalist's toolkit, there's a strong argument for ALL news journalists to have some level of UGC training and expertise.
If events in Paris have shown us anything, it is the markedly increasing media literacy of the public. People are becoming much more savvy in what they record, and what they do with it. Newsrooms need to keep pace.
Our other blogs by Mark Frankel
#CharlieHebdo: Minute-by-minute decisions over UGC
#Paris: Streaming video apps means we're all reporters now
Social media verification: UGC Hub