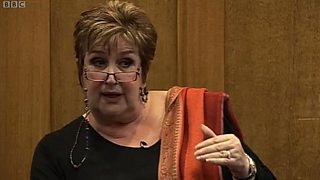 In the second instalment of this blog, broadcasters, investigative journalists and news specialists - including some College of Journalism bloggers - respond to Felix Salmon's recent discouraging advice to aspiring journalists and the opposite view from Alex Thomson, Roy Greenslade and others.
Like contributors to part one, they explain why they got into the business in the first place and whether they would they take the same career path if they were starting out today:
Jenni Murray, Woman's Hour presenter, BBC Radio 4
I became a journalist because it ticked all my boxes (I trained as a broadcast, not a print journalist). I'm nosey. I love language. I like to talk. I'm a bit of a show-off when it comes to performance. I love radio, says Murray (pictured above).
I was given brilliant advice by my first manager David Waine: "If you want to survive in this business, keep your brain well stocked and make sure you can work in all media."
I've never regretted it for a second and would recommend it to any young person prepared to work hard, survive the knocks (it's very competitive) and, yes, be satisfied with not making a fortune.
Nick Garnett, North of England reporter for BBC Radio 5 live
Anyone who goes into journalism for the money isn't much of a journalist because anyone who thinks it's well paid hasn't done their research. However, I went into it with my eyes well and truly open. I'd worked in radio presentation for a number of years and had seen a lot of journos at close quarters. I wanted that life.
My peers from school are earning multiples of my wage - and that's no exaggeration - but their day today will be the same as yesterday and the same as tomorrow. Hand on heart, I've never been able to say that. I have no real idea what next week will bring. Or tomorrow. Or today. That's why this still is the best job I can think of.
Alessia Cerantola, reporter at Investigative Reporting Project Italy
I was already 25 when I first felt that I could help fill a small gap in news coverage in my home country, Italy. My degree was in oriental studies, involving several research trips to Japan - a country scarcely covered in Italy. So I started studying journalism and then working almost unpaid as a freelance reporter for national and English language media.
I was able to cover my expenses reporting from Japan - especially after the 2011 Tōhoku earthquake and tsunami and the Fukushima nuclear crisis - thanks to other journalism-related work.
I stayed in the refugee camps, travelling alone on a low budget. Otherwise, only a couple of official correspondents were working there for the Italian media. So, even a single freelancer could make a small difference.
Some years later I co-founded Italy's first centre for investigative journalism (IRPI) in a country where in-depth investigations into organised crime and corruption, for instance, can be difficult within the confines of traditional newsrooms.
And there's the clue. I strongly believe that journalists can still make a difference, but in new ways - perhaps working in teams - and not necessarily replicating models that have worked in the past but have now been overtaken. The enthusiasm you find in such groups of 'avant-garde journalists' from different countries who are trying out new ideas, technology and ways of working is the hope for the future of quality information, and the reason I continue doing this job.
Yes, there is a whole generation of journalists who are potentially working for years unpaid or underpaid in a limbo of eternal traineeships or internships. That's hard. But I would argue that it makes the ones who stay the course stronger, more resourceful and more determined than ever to stay in journalism, at any cost.
Chris Hamilton, social media editor, BBC News
I became a journalist because I'm really curious about the world, and love sharing the product of that curiosity with other people. Some might say that's code for being an egotistical gossip merchant - although if I can play even a small part in making the world a better place by informing people about what's going on in it, I'll take that analysis on the chin.
Alex Thomson and Felix Salmon are both right of course. Salmon says it explicitly: that it's a great era for journalism. Thomson doesn't do hyperbole, especially positive hyperbole, but I suspect he'd agree. And they're both right that it's not a great time for journalists - if they're in it for the money. But then was it ever? Probably not. Would I personally make the same choice again? Most definitely.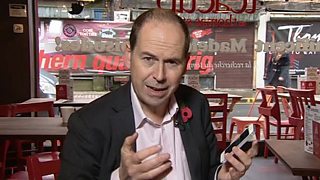 Rory Cellan-Jones, technology correspondent, BBC News
There were two reasons I became a journalist, says Cellan-Jones (above). Firstly, I was intoxicated by the glamour of the news business, having lapped up every book about the trade I could lay my hands on: from Harry Evans's Good Times, Bad Times to Hugh Cudlipp's Publish and Be Damned - and that rather more accurate portrayal Evelyn Waugh's Scoop.
The second, rather more prosaic, reason is that I was determined to avoid becoming an accountant, as many of my friends had. That was enough to make me fling myself into student journalism and start typing out applications to every newspaper and broadcasting trainee scheme I could find.
More than 30 years on I am certainly worse off than just about all of those student friends, but I have no regrets. And while the news business is now in a perpetual state of digital crisis, I would do it all again if I were starting today.
There are fewer training schemes, but far more ways for aspiring young journalists to test their skills and find an audience: from blogging to setting up your own YouTube channel. Mind you, if you want to make money, I'd stick to accountancy.
Winifred Robinson, You and Yours presenter
I was inspired by Harold Evans and the Sunday Times story about thalidomide. When I got my first job on a weekly paper, I couldn't believe how lucky I was to have this gateway into the lives of other people.
In Northern Ireland during the conflict, I was invited into the homes of people whose lives had been changed terribly. It is a chance to hear accounts first-hand that others will experience only from a distance.
I grew up on a Liverpool council estate and I've specialised in reporting from some of the most deprived areas of the UK. I've interviewed young people involved in serious crime and violence. I've been into a secure unit for children and interviewed the young people held there. I may not have changed the world but I have made a space sometimes for people to speak whose voices are not often heard.
It is much, much, harder for young people now because the industry no longer pays for the basic training in law and public administration that everyone needs. The unpaid internship is another unwelcome new hurdle. But the quality of journalism, in my view, is better than it has ever been.
Journalism isn't for people 'who want to be journalists'. It's for people who want to do the job of the journalist and all that entails. It is often creative work and it's often fun. Would I make the same choice again? Absolutely.
Henk van Ess teaches internet research, social media and data journalism
I chose investigative journalism not because it gives me what I'd like to know, but what I need to know. It helps me to understand what is happening and why. To students of journalism I say: "Thank you." We need you badly in a world full of spin doctors, paid content, infotainment and trigger-happy lawyers.
Be an activist for the truth. Empower the public to make the best possible decisions.
Our other blogs by:
Professional v personal social media: Rory Cellan-Jones
Smartphone broadcasting: 5 live's Nick Garnett
How to become a BBC journalist
Getting into journalism: Rory Bremner and DIY filming did it for Frank Gardner
Getting into journalism: Why radio was the right fit for Emma
Getting into journalism: Bring a different story - refugee Jamal Osman
Getting into journalism: Less doctor talk at the dinner table
Getting into journalism: Just go out and do it, says VICE maverick Tim Pool