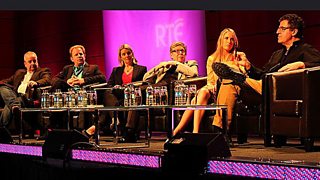 MoJoCon panellists: Photo by Micheal Mac Suibhne
It's not often you get the chance to take part in something truly new and innovative, but that was indeed the case for me and several hundred others who gathered in Dublin at the weekend for the world's first conference devoted purely to mobile journalism, storytelling, film-making and more.
There have been numerous events where mobile has been on the fringes - the slightly weird younger brother hanging around to the side of the mainstream. At others the focus has been on how journalism is being disrupted by the huge growth in consumption of content on mobile. But MojoCon was different: it put mobile front and centre - be it for journalism, films or technology.
Hosted by RTE and organised by the Irish national broadcaster's innovation lead, Glen Mulcahy, it enabled some of the finest minds and most inspiring speakers in the mobile space to gather in the same location at the same time for the first time ever. I was also there, on behalf of the BBC College of Journalism.
The two-day event in the impressive surroundings of the Dublin Convention Centre was part discussion forum and part workshop - but wholly inspiring. It also confirmed (were there still any doubters) that mobile devices are responsible for a most fundamental shift in journalism.
The keynote speakers took a broad perspective, although both agreed with the notion of rapid, dramatic change.
The first keynote was given by former BBC director of Global News Richard Sambrook, now director of journalism at Cardiff School of Journalism. He told the gathering that while TV was still the biggest platform for news it was "in trouble and in decline". He said big broadcasters needed to "reorganise everything" in the age of mobile, given that the devices were able to affect every aspect of news, from gathering it to producing it to distributing it to consuming it. Journalism, he argued, needed to think a bit more like Vice and a little less like the doyen of US television news, Walter Cronkite.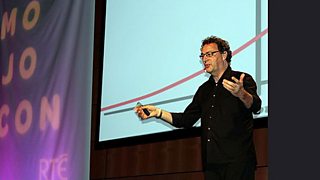 Gerd Leonhard talks mobile futures in Dublin: Photo Micheal Mac Suibhne
The second keynote was from noted 'futurist' Gerd Leonhard who introduced me, and probably many others in the audience, to a concept that he claims will have a huge impact on journalism's future: the "humarithm". His argument is that, as automation is coming and machines will soon write copy, so humans (journalists are indeed humans... well, some of us) will need to write above and beyond that. In other words, while an algorithm will produce some stories, it's only a "humarithm" that will produce great stories. (He expands on his future vision in this videoed interview.)
Their talks were followed by a number of sessions with panellists each getting 10 minutes or so to speak on their particular area of mobile devices. Personal highlights included Michael Rosenblum - viewed by some as the father of video journalism - who insisted that journalists and journalism were finished (and another word beginning with 'f'), given the proliferation of mobile devices which enabled three billion people to take photos, record video and even live-stream footage from wherever they are. Provocatively, his argument ended with the conclusion that the future for news organisations was just "editing, curating and publishing" the content received.
MojoCon also heard from a number of journalists who've used mobile devices to report, such as Neal Augenstein from WTOP in Washington, Patricia O'Callaghan from RTE and the BBC's very own mobile journalist Nick Garnett. Each generously shared an insight into what they did and equally how to do it.
If one theme emerged during MojoCon it was this: while mobile devices were disrupting journalism and had enabled many more people to create content, there still needs to be a strong story to cover or an eye-catching image to photograph. This was perhaps exemplified by Torera Idowu who works in Nigeria as an entertainment and lifestyle journalist for that country's national newspaper, the Nation.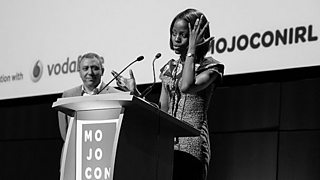 Torera Idowu: Photo Sir Cam @camdiary
Despite never having recorded with a mobile device before, her short film shot on an iPad 3 about the slums of Lagos beat entries from other more experienced journalists to win the Thomson Foundation competition.
One yardstick by which the calibre of any conference can be measured is how conflicted a delegate is between which competing sessions to attend. And so it was with me: at the very moment I was hearing from those who've made 'proper' films on a smartphone, I wanted to be in the parallel discussion on the impact of mobile on social content.
It was the same on the second day: while I was helping give a workshop on using a smartphone for journalism, I couldn't at the same time be present at a session devoted to better photography on a mobile... and so that went on throughout the conference. In total, there were 16 sessions and workshops delivered by more than 40 trainers and speakers to around 400 delegates. Friendships were made, ideas and inspiration were swapped; who knows where MojoCon may lead?