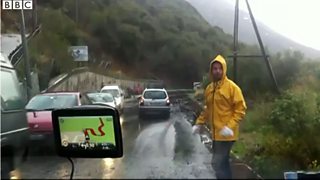 We rounded a corner and ran into a police roadblock. They were letting people through, but slowly. In the aftermath of Sardinia's destructive Cyclone Cleopatra there had been a landslip to the right of the road which had washed some of the tarmac away.
The day before I'd been in the BBC Brussels bureau where I'm based listening to the advice from one of the College of Journalism's trainers, Marc Settle - advice on how to get the best out of your iPhone.
So it was all fresh in my mind. I opened the camera, put it into video mode, tapped the screen to get it focused and exposed correctly, and hit record. I decided to start on the policeman who was close to the open car window of our producer Julian, who was driving. The video captured a little of their chat about the road ahead - then I started talking.
As I did so I swung the camera round, first to see the road, the small landslip and some more officials. Then I flipped it right round 180 degrees so it was pointing at me.
Marc had said hold it steady and slightly away from you to get the best video selfie. I remembered what he'd also said about the camera microphone being on the top of the phone so I cupped my hand round it to channel the sound of my voice more directly.
Then while speaking I remembered to keep it short - so after 50 seconds or so I shut up.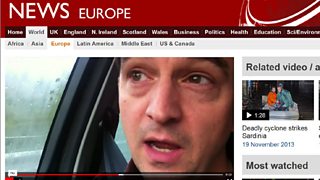 That was it. Really simple - and it worked! Being in a car helped with the acoustics. All I now needed was a good solid 3G signal, which I found about five minutes later down the road. We were stopping anyway so I emailed the video through the iPhone and it sent while we were doing other things.
It was so easy. You have to have the right story of course. It has to be something where people clicking on the link will sacrifice a little quality because they want to see something from a breaking news story.
But I was amazed at how good it looked. The team in London did a good job editing off a clipped word of mine and putting some extra pictures on the end of the rant. All that made it a far more complete item.
And it was in quickly. We sent better quality footage later, but that took longer. This quick hit was up on the website soon after it was recorded, and was in the top 10 most viewed BBC News clips of the day, I'm told.
Sardinia hit by Cyclone Cleopatra
College of Journalism blogs by Marc Settle
Filming for TV on iPhones in Nepal: A balancing act worth the risk
Seven tips to get your smartphone pictures on the news