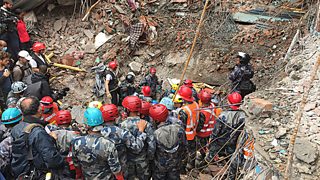 On 12 May a second major earthquake struck Nepal, two weeks after the first. In describing his experiences covering the effects of the first quake, Nick Garnett says he was happy to let dramatic events take precedence over sound quality, and reflects on what he's learned from disaster and crisis reporting.
This is part two of Nick's Nepal blog. In the first part he detailed his mobile reporting kit, and what he found when he arrived in the country.
In terms of a radio audience, Breakfast is the programme you do most planning for. Normally I'll have recorded material, edited it and worked out what I'm going to say before I hit the pillow the night before. In Nepal the time difference meant I was waking up at 02:00 UK time. I had four hours to find a story each day and get it on air for Radio 5 live.
One day I went into town and was working in an area near a bus station that had been badly hit. Apartment blocks had shunted down in height from seven stories to five; some buildings bowed towards me in the street.
This wasn't a safe area to be in so I came out and looked across the busy four-lane wide road. On the other side dozens of army officers were running into an alleyway. I ran over - not an easy feat in a country where roundabouts are driven round in both directions at the same time.
In the alleyway were hundreds of soldiers, police and rescue workers from the US and France (above). At the bottom was a 15-year-old boy entombed in a concrete crypt. He was alive and for the next two hours, as they tried to dig him out, I commentated on events, explaining what was happening and what equipment they were using.
Nobody has said to me 'why were you on the phone?' or 'why weren't you on satellite in pristine sound?'. I was on a scratchy intercontinental phone line but, for all those journalism students out there, it didn't matter.
The only thing that did matter was the event. Did the boy survive? (Yes, and was carefully sitting up and eating half an hour later). How did they get him out? What condition was he in? How did he survive? (By eating ghee and sucking water from a wet cloth).
I couldn't get a satellite signal because the buildings around me were so tall and the sat so low in the sky. But, ultimately, it didn't matter - all anyone wanted to know was what happened; they weren't worried about the quality of the phone line.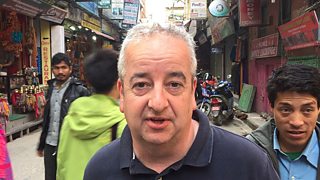 I could have used that as a template for the rest of my time in Nepal, but there's a certain element of pride in wanting your broadcast signal to sound as good as it can - so the rest of the week was spent juggling battery life and location to use as little juice as possible. With the last live broadcast the batteries gave out, as did mine I guess.
But there was one problem. Breakfast wanted a last package to run seven days after the quake happened. There was just one more trick up my sleeve. I recorded the interviews at the airport and quickly did a few links. On the plane I mixed the piece ready to send it from Abu Dhabi airport on the way home. And then the plane was delayed.
A rush from one part of the airport to the next meant I didn't have any time to file the last piece, and as I got on the plane I saw the poor 3G signal disappear and become an E instead. Luckily airlines have decided it's OK to offer wi-fi and roaming on board a plane nowadays, so the final piece was filed for 5 live from 35,000 feet on the final leg of the journey.
Nepal was the third international crisis I've covered as a solo operator this year (after migrant deaths in the Mediterranean and the shootings at the offices of the Charlie Hebdo magazine in Paris, working with producer Sophie McDonnell). Here are five things I've learned:
Cut your kit down to the minimum you think you can get away with. Fill up spare space with batteries and a bottle of water. Carry your equipment on your back if it's not too heavy. Having two hands free is really important. In Paris I made the mistake of carrying a shoulder bag and my back ached for days afterwards.
Arrive at any location for any story at least 10 minutes early and sit down and watch the world go by. Spot the tempo. Are things frantic? Are locals getting on with life as normal? What about the expressions on people's faces? Watch them for a few minutes and try to report your piece at the same pace as the life they're living... don't get overexcited because you're in a rush and have only just arrived. You might be missing or misrepresenting the mood of people just because you haven't tuned into them.
Always carry dollars on any overseas story - the universal currency. Sterling simply doesn't cut it. A hundred dollars in cash can get you a taxi, a hotel and some food in many countries in the world. Don't rely on getting the cash out when you arrive - what if your card doesn't work? Remember that many countries require you to buy a visa when you arrive... and they want hard cash.
A BBC ID can open doors but others can be shut if you 'flash the logo'. In many parts of the world the BBC is incredibly well thought of and people will go out of their way to help you. It could also make you a target, so assess the mood carefully. If in doubt keep it hidden until you know how you're perceived.
Loo roll and hand sanitiser can pack down really small.
This is an edited version of the author's original posting
Mobile journalism had its place in Paris, but it couldn't work alone
Our other mobile reporting blogs by Nick Garnett
Nepal: Why are some disasters bigger stories than others?
Blogs by BBC smartphone reporting specialist Marc Settle
Smartphone broadcasting: 5 live's Nick Garnett
Smartphone journalism: Photographs
More filming and recording skills
Focus iPhone, record and send - instant video hit from storm-lashed Sardinia
Filming for TV on iPhones in Nepal: A balancing act worth the risk