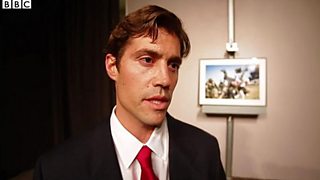 Murdered US journalist James Foley, talking to BBC News in 2012
As ever, it was the faceless figures that spelled out the size of the problem: 700 journalists killed in the last decade; 87 in 2014 - most in Syria; one killed every five days; more than nine in ten victims are local reporters; only 7% of murders result in conviction.
The latest grim stats from UNESCO were the backdrop to an unusual gathering last night in Westminster, as international journalists, policy makers, lawyers, pressure groups and NGOs marked International Day to End Impunity for Crimes against Journalists (IDEI). Other special events were being held in New York, Paris and around the world. This was the first of its kind in the UK.
Sponsoring MP Paul Farrelly, a former Reuters and Observer journalist, apologised for the late start, as Parliament's "900 years old queueing system" was besieged by a Trade Union lobby. There was a lot to get through, starting with chilling accounts from front-line reporters.
Freelancer Emma Beals, who has covered the Syrian conflict for USA Today, Vice News, The Guardian and Al Jazeera English, recalled the day last August when she learned of the grisly killing by so-called Islamic State of US journalist James Foley, a close colleague. "I was with other colleagues, talking about our kidnapped friends, when the news broke," she said.
She described how she'd been threatened, arrested at gunpoint and accused of crimes in the course of doing her job over the last three years, as various regimes had "acted with impunity". The inability of local and international media to properly cover events in Syria now felt like a "betrayal" of her friends' memories.
Vice News head of programming Kevin Sutcliffe offered insights into the recent struggle to free British journalists, Jake Hanrahan and Philip Pendlebury, from the Turkish prison where their regional colleague Mohammed Ismael Rasool is still detained, accused of "working with an unnamed terrorist organisation". Mounting international pressure to free the 24-year-old Iraqi Kurd seems to have stalled, Sutcliffe said.
"I send Western journalists to dangerous places and I can do so only because of the people they know on the ground – local fixers. We can put pressure on governments about our own [British] journalists, but it's hard to work against the propaganda surrounding local journalists, who are very vulnerable. It feels like open season on journalists," he admitted.
Panellist Peter Greste, the Al Jazeera correspondent who spent 400 days in an Egyptian prison, accused of spreading false news and aiding the Muslim Brotherhood, was exercised by one statistic in particular: of more than 220 journalists imprisoned worldwide, two-thirds are in jail for crimes against the state.
Greste, who was freed in February ahead of his captive Egyptian colleagues, was pessimistic: "The 'war on terror' changed the dynamics. We've seen the safe ground where journalists used to operate taken over by governments, which can use charges of terrorism – as happened to us.
"We now have a political culture that has turned that [traditional] media space into a battleground… That's something we need to address."
In this context, there were a few side-swipes at the UK government's own counter-extremism legislation but some consensus that the journalism community could be more proactive in improving its own safety. News organisations needed more effective policies and a stronger "counter-narrative", according to Getachew Engida, UNESCO's deputy director-general.
Greste's Al Jazeera colleague Alaa Bayoumi, who'd been convicted in his absence on similar conspiracy charges, thought Arab journalists now had a responsibility to better educate the public about the journalist's role.
Greste himself went further: "We're never so crap as when we're reporting on ourselves… And we don't do a good job on reporting on press freedom," he said. But what could be achieved when journalists "act with common purpose" was evidenced by the mass media campaign to free the Al Jazeera prisoners.
The debate shifted to state and judicial responses to the human rights abuses suffered by journalists around the world. What good was the Declaration on Human Rights to a journalist whose life was being threatened at a remote roadblock, asked moderator William Horsley, international director of the Centre for Freedom of the Media.
While the number of journalists killed, jailed and tortured has reached its deadliest peak in the last decade, Horsley argued that progress had been made at international level, particularly since the 2012 UN Plan of Action on the Safety of Journalists and the Issue of Impunity. A new UN resolution this year further committed to pursuing the perpetrators of attacks.
"These are binding obligations under international law… with the ability to name and shame, which states don't like," he said.
The weekend's murder of secular publisher Faisal Arefin Dipon in Bangladesh was in the mind of Thomas Hughes, executive director of Article 19. He recalled cases of attacks on media figures in the country, dating back to 2004, which the authorities had vowed to investigate, but where no prosecutions had been brought.
"Governments often agree to endorse [international law] but implementation is very lacking," he said, calling for more special 'rapporteurs' on media freedom to help hold states to account.
It fell to Rob Fenn, head of the Foreign Office's Human Rights & Democracy department, to state the UK government's position on impunity for crimes against journalists. He saw opportunities for government and media to join forces to make the case for freedom of expression around the world, on the basis that freedom to report was "smart development" and suppression of journalists by states was "self-harm on a grand scale".
There were inevitably questions from the floor. When Egypt's President Sisi visits London, will politicians be asking for the charges against Peter Greste and his colleagues to be dropped? Would the UK government now intervene in the case of the jailed Saudi blogger?
"Peer to peer commentary is sometimes better than finger-wagging legislation… We get more traction from some governments behind closed doors," Fenn responded.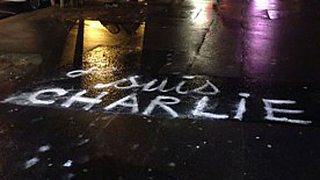 One of many tributes in Paris to the murdered Charlie Hebdo journalists. Photo courtesy of Nick Garnett
The United Nations named anti-impunity day in commemoration of French radio journalists Claude Verlon and Ghislaine Dupont, murdered by armed rebels in Mali on 2 November 2013.
Other recent casualties, including the Charlie Hebdo cartoonists and murdered Mexican photo-journalist Rubén Espinosa, were remembered by those at Monday's packed Westminster event.
William Horsley closed the debate with a reminder that, beyond the known journalist death toll "whole communities are being silenced by impunity".
He now wanted to see the Council of Europe and governments like the UK's taking responsibility to build a "framework of human rights" in regions, including the Middle East and Asia, where none exists.