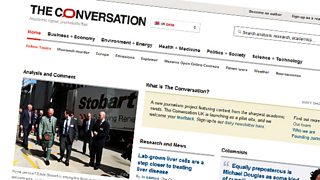 Academics can't write. They always miss deadlines. Won't all the pieces just be really boring? Such was the reaction of some friends in the media when I told them I was embarking on a new project that would showcase academic thought and research - and tie it in with the news cycle.
So, after almost four weeks of The Conversation UK running live, what's the truth? Well, not every deadline has been met. And not every piece was sparkling when it came in. But, hey, these are things I could have said about some copy at any of the national newspapers I've worked at over the past 15 years.
In the main, our team of editors, based in an office on the roof of City University in London, has worked with academics from around the UK and further afield to create a rolling series of gripping articles on issues as diverse as the upheaval in Turkey, throat cancer and the HPV virus, Wikipedia wars and the Viking heritage of modern Europeans.
The Conversation seeks to broaden understanding of key issues and events shaping modern life. It began in Australia two years ago and is now running in the UK as a six-month pilot project. All content is produced by registered academics - experts in their field - but edited by experienced journalists. The money for this in the UK has come from 13 universities and a group of funding councils and trusts.
All content is free to read and free to republish. Inevitably, this has prompted raised eyebrows at some traditional media outlets. But we have always been clear: we do not see The Conversation as a replacement for traditional journalism. We are simply tapping into a resource that was already there, and often under-exposed.
Within the academic sector there is great expertise, much of it funded by the public. There are thousands of people working at UK institutions who have spent years getting to know their subjects in great detail. In a world in which there are opinions and views flying at us 24 hours a day, seven days a week, here is a group of people who truly are qualified to comment.
We insist that on the site they are as transparent about their funding and interests as we are about our backing.
And we have already found that these people are able to turn around scintillating copy at short notice. Take the Woolwich attack. Within hours of the shocking events taking place, we had informed, measured reaction up and running. By the following morning we had a second piece. Other comment and analysis sites were posting their initial pieces 12 to 14 hours after our first takes on the events. Who says academics can't hit deadlines?
Before we launched, some material similar to ours might have emerged in newspapers and websites, but we have already created a great deal more of it. We have generated content that would not otherwise have existed and shed light on the thought and expertise that exists in all universities (whether or not they are our funding partners).
As we go forward we hope to cover a wider variety of subjects and work with academics at more universities to create even more content that is interesting, riveting and, yes, readable.