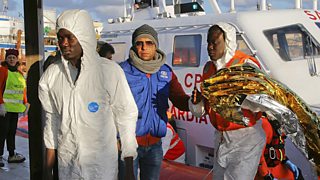 Despite its own long history of emigration, Italy appears uncertain about how to respond to the current immigration crisis. After the struggles already faced by the new arrivals (like those shipwrecked, landing in Lampedusa, above) they then have to face the hostile attitudes of much of the Italian media.
Al Jazeera recently took a strong line on its framing of this issue by announcing that it would no longer use the word "migrant" in these stories because it suggested wrongly that there was a degree of choice for people fleeing from war. On the Al Jazeera blog, Barry Malone, one of the network's online editors reported:
"For reasons of accuracy, the director of news at Al Jazeera English, Salah Negm, has decided that we will no longer use the word migrant in this context. We will instead, where appropriate, say refugee …Migrant is a word that strips suffering people of voice. Substituting refugee for it is – in the smallest way – an attempt to give some back."
Here in Italy, the range of terms used to describe people arriving in the 'bel paese' in search of help, or a job, is wide, many with negative connotations. One such is 'extracomunitario' - literally, not of the European Union, which seems neutral enough but usually has negative associations. Used particularly in reference to Albanians or Moroccans during the 1990s, it now tends to refer mainly to North Africans and can commonly be found in economic or sports news.
Another common word is 'clandestino' - illegal immigrants because they are overstayers. That's also used for migrants and refugees, most frequently in the right wing press or media allied to the Northern League, but sometimes more generally too. This is how La Stampa, one of Italy's main national daily newspapers, headlined a recent front page article: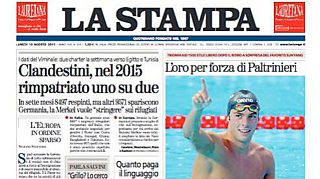 'One in two 'clandestini' repatriated in 2015'
Readers and bloggers responded, some commenting on La Stampa's Facebook page about the choice of language, one describing it as "shameful".
Reports based on facts and figures are rare. Opinions, impressions and political views are more prevalent than investigations or on the spot reporting. Journalists are less interested in questions about why people are on the move than in suggesting dangers of increased criminality or the idea of immigrants "stealing Italians' jobs".
Lack of research and background knowledge is evident among local journalists who are, necessarily, generalist reporters. Angela Lovat is president of Ospiti in arrivo, a migrant support organisation based in the north-eastern city of Udine: "Immigration has never been viewed as a long-term phenomenon so no need for specialist journalism. In many cases reporters call us to get information but without having a clue about the complexity of what they're covering. They ask us the meanings and distinctions of specific definitions of migrants."
However, the regularity of migrant arrivals is now convincing some newsrooms to change their policies: "There are some attempts to give more space to analysis and reportage, although the 'safety-criminality' theme is still prevalent," says Giacomo Zandonini, a freelance journalist focusing on migration issues. "The problem is that [in Italy] there is no continuing vocational training on the subject for reporters."
For years, a group of journalists have advocated more neutral, more humanised versions of migrants' stories. They've done it by providing background information and promoting good journalistic practices. The anti-discrimination handbook Parlare Civile, with its collection of accurate terms and data, is one example.
Since 2008 the Italian Federation of Journalists has also contributed to a set of guidelines for journalists reporting on asylum seekers and migrants. The result is the Carta di Roma - a title that refers both to a document that aims to provide "a nimble and practical tool for media professionals", and to the association behind it.
"I notice that journalists who aren't politically-aligned tend to be more accurate," observes Giovanni Maria Bellu, president of the association. The recommendations made by the document aren't always followed. "Our website highlights cases of violation. We call the journalist concerned, try to speak with the editor-in-chief and hopefully organise a meeting in their newsroom," adds Pietro Suber, a journalist with media company Mediaset, also vice president of Carta di Roma.
Other media are now also offering advice. The news website Valigia Blu, along with other publications, edited an anti-racist handbook for readers and journalists, and more publications have started to report stories about integration.
Changes in media coverage will not happen overnight. Last year's survey by monitoring group the European Observatory on Security compared actual migrant boat rescues and associated media coverage by the main Italian TV stations. It highlighted how inaccurate and politically-led the mainstream media agenda is, but despite alarmist news reports, the survey notes that scarcely three percent of Italians view current immigration as an emergency.
Alessia Cerantola is a reporter at IRPI (Investigative Reporting Project Italy), with a special interest in Japan.
Our other blogs by Alessia Cerantola
Journalism values: Truth and accuracy
Journalism values: Impartiality