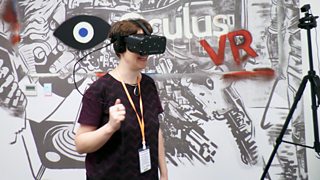 The author tries Oculus Rift
The experiment in 360-degree filming described in Paul Adams' recent blog is part of a bigger picture - metaphorically as well as literally. The development of this kind of immersive content, which includes virtual reality, is likely to have profound implications for journalism as well as for fictional and entertainment content.
But what is the connection between 360-degree filming and virtual reality (VR)? Well, 360-degree video is just one form of VR experience, alongside computed generated (CG) experiences and games.
360-degree videos can be watched in a number of ways. It only becomes VR when viewed via a headset - the most intense immersive experience.
But it can also be viewed on a smartphone, allowing you to change the angle and view by simply moving your phone. Or you can see it in a browser, using a mouse.
When watched via VR headset, you feel part of the action. In the Calais migrant camp, you can 'look around' the squalid makeshift shelters and get a sense of the scale.
Although 360 viewing is not full VR, it does still offer a new and intense way to enjoy video. And for journalism it offers new opportunities to let audiences engage with stories.
Hype around the possibilities of 360 degree filming for VR began in California earlier this year. Like the early film industry, California, with its hours of sunshine, has proved a perfect place to experiment with 360-degree film-making. The current 360 cameras are typically GoPros on rigs, and work best in bright, even light. They can't cope with rain!
Aside from the climate, the proximity of Silicon Valley is facilitating interesting collaborations between Hollywood and the tech industry, driving interest in this new form of film-making. And some of the early 360 films have benefitted from Hollywood budgets too.
The film that convinced me of the possibilities of 360 journalism was Clouds Over Sidra (which you can download from VRSE). It shows the Zaatari refugee camp through the eyes of a 12-year-old girl. Being able to look around the school, see the bread baking in the bakery and watch her family cook and eat in their tent is an evocative and moving experience. The film later won the interactive award at the Sheffield Documentary Festival.
Nonny de la Pena is a VR pioneer who has been behind much of the interest in the possibilities of 360-degree filming and VR for journalism. She has developed journalism experiences using computer graphics, usually with real sound recordings - allowing the viewer to walk around and be in scenes such as a bomb exploding in Syria or a scene that evolves outside soup kitchen.
One of Nonny's recent projects recreates the Trayvon Martin shooting, using audio from police calls. It was deliberately created in a short time period on a low budget to explore what might be possible.
Headsets - how will we watch 360 films?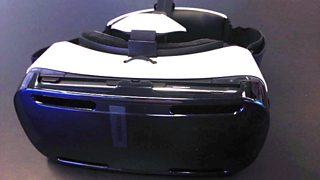 Samsung goggles
The big question is whether people will want to sit in their living room with boxes strapped to their heads to get the full VR effect. It's an antisocial experience, disguised at the moment by the very human interaction provided at the start and end of VR demos at documentary festivals where most of these films are currently viewed.
It might be different and more isolating at home. Having once reported on internet fridges, I'll remain sceptical until I see the sales figures.
360 degree video doesn't allow you to walk around and be part of a scene - only to 'look' around. For the most intense VR experience, using CG, you'll need something like the Oculus Rift Crescent Bay, and the HTC Vive headsets - both of which use motion tracking (in other words, it responds to how you move your head).
I tried prototypes of both and the experiences were very powerful. But they're likely to appeal most to gamers, or perhaps schools, libraries and museums which want to offer a special experience.
The Samsung Gear VR (which uses a Samsung smartphone in a special headset) is currently popular for demonstrating 360 filmed VR content, because it is so portable and appears less pixelated than the Oculus Rift (which requires a computer to drive it).
Then there's Google Cardboard: a simple fold-out box with lenses that turns your smartphone into a VR viewer (for around £4). If this takes off it will mean that for the first time large numbers of people will be able enjoy a basic VR experience.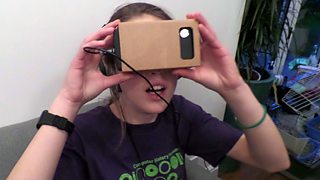 Google Cardboard
Cardboard is great for short-form video, and provides interesting opportunities for mobile news apps. It transforms video on a phone from a small TV into an immersive experience.
Aaron Luber from Google Cardboard says: "There isn't a headstrap for a reason. Latency on a mobile phone isn't good enough yet. So we purposefully did something that made you move your torso. That leads to content that is short and shareable, unlike the Samsung Gear VR which is designed for longer experiences."
The new Cardboard folds flat, which will be an improvement. And other versions are available. But a folding phone case might be more practical and accessible, so I hope someone invents one soon.
Sound is also very important to VR, and using headphones with smartphones offers the possibility of binaural audio in the future.
360 and VR for BBC News
Before our Calais trip with Paul Adams, we produced a number of 360 video prototypes to see what was possible without a Hollywood budget and large amounts of post-production.
But back to our BBC experiments: here's a film showing what familiar Westminster locations look like in 360, and exploring how the role of the reporter might change.