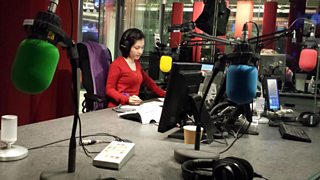 Najiba Feroz at the microphone in the BBC's New Broadcasting House
I was on a day shift with the BBC's Afghan Service in London when I heard the news on 20 January. In the middle of our lunch break, one of my colleagues said there'd been an explosion on the Darul Aman Road in Kabul. That's the area where my family live.
I frantically called my dad to check they were safe. An hour later I saw a tweet that said Tolo TV employees had been targeted in the blast.
I couldn't believe it. I thought it might be a rumour. I called old friends at Tolo to check and heard the shocking truth: seven of our colleagues had been killed and at least 25 more injured in a targeted Taliban suicide bombing. I struggled to find words to respond.
The faces of those killed were imprinted on my mind as I carried on working that day. They often still are and I could easily have been one of them.
I was 16 years old when I started working for Tolo TV. The Kabul newsroom was full of energetic and motivated young journalists, just like me.
Becoming a journalist had been a lifelong dream ever since I started following news and current affairs programmes with my dad. I'll never forget the moment when my first TV report was broadcast. In a male-dominated country like Afghanistan, where women were'nt allowed to work outside the home during the Taliban regime, the increasing visibility of female journalists was seen as a huge change.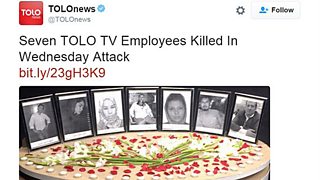 How the Tolo TV staff who died on 'Black Wednesday' were remembered by colleagues in Kabul
Tolo was one of the country's first commercial stations. From its early days on air in 2004, it made people sit up and pay attention. An audience survey, by Altai Consulting in 2013, showed it had almost nine million viewers and around 60% market share in Afghanistan. Among its most popular output are The Good Morning Programme, reality show Afghan Star, Afghan Premier League coverage and Turkish series dubbed into Persian and Pashto.
Importantly, the station's parent company Moby Media Group is seen as a reliable news provider. Tolo's 6pm bulletin is the news programme watched by most Afghans inside the country, as well as by a great many overseas including London and the US.
So on the one hand, Moby Media Group with around 800 employees is a leading player in Afghanistan's media industry. On the other hand, religious conservatives, armed insurgents and some government officials see the group as an 'American network' that promotes Western views at the expense of Islamic law and Afghan culture.
Armed groups have threatened Tolo employees several times before and the station took security measures in response to its most recent threat from the Taliban. Along with another private news channel 1TV, Tolo was named as a 'military target' due to exaggerated reports (the militants claim) about the Taliban during the fall and recapture of Kunduz province in October 2015.
But when I talked to some of my ex-colleagues in Kabul last autumn, they seemed to view the threats as Taliban propaganda. This made the 20 January attack (on 'Black Wednesday' as it's come to be known) all the more shocking.
The Taliban suicide bomber had blown up his vehicle near a minibus carrying more than 30 Tolo staff. Most were from the station's dubbing department. Most were their families' sole breadwinners. If I had still been working for Tolo in Kabul, I would have been in that same vehicle, on the same route home.
Mariam Ibrahimi was the youngest victim of the attack. The 22 year-old had joined Tolo as a dubbing artist only six months previously. She was also a civil activist who, during a peace campaign in October 2015, wrote on a wall in the capital: 'Peace is not a dream!'
Tolo video editor since 2009, 32 year-old Mohammad Jawad Hussaini also died. Javid was remembered by his sister as an incorrigibly optimistic person.
Mehri Azizi started working at Tolo as a teenager, like I did. She rose to lead the graphics department. Saddened colleagues described her as someone who never stood still.
The bus attack is one of the first to target members of the media in such a blatant and organised way. It's the first time that the Taliban has launched a direct deadly attack against the media since 2001.
Many think that Tolo's reach and popularity mean the bombing could have also been intended to hit the morale of ordinary Afghans and be a significant development for the Taliban.
President Ashraf Ghani condemned the attack, calling it as an attack on freedom of speech. He promised to provide necessary security measures for the media. The Taliban have defended the killings saying they were in revenge for Tolo's coverage of Kunduz.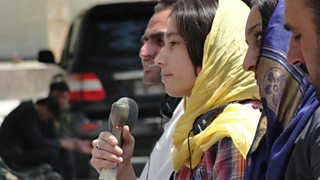 Najiba Feroz reporting for BBC World Service from the Afghan Presidential Palace