Asia is a huge and diverse region, and many of its journalists face pressures we can barely imagine in Western newsrooms. Some are hampered by technological problems; others feel threatened by ideological sensitivities and political pressure.
But Asian journalists are never short of rich, intriguing stories to cover or the drive and tenacity to dig them out. I was therefore thrilled to be invited to Manila to attend Uncovering Asia - the first investigative journalism conference on the continent.
As some readers may know, my speciality is online research and I was asked to deliver some sessions at the conference. There are many tools, tricks and techniques that help you investigate online, and it's always a pleasure to share any knowledge that comes my way. So, with talks entitled "Using Social Media for Investigative Reports" and "Internet Detective", I took to the podium.
You can learn a lot about the problems faced by a group by the questions they ask. I was asked questions about internet access, reporting from repressive regimes and how technically under-developed countries can get their message out.
I spoke about how virtual private networks can help bypass local restrictions. I also demonstrated tools like Geofeedia that give access to social media posts from regions of interest: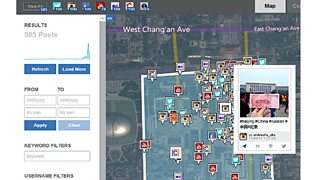 Geofeedia detects social media posts sent from Tiananmen Square in Beijing
Many issues were tackled at Asia Uncovered, from the truly shocking (commemorated by a candlelit protest against the intimidation of journalists which remembered those killed for seeking the truth) to everyday practicalities like availability of data and techniques for securing funding for an investigation.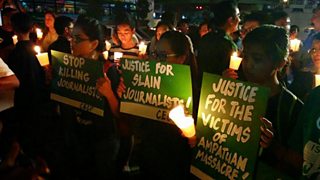 Conference attendees mark UN International Day to End Impunity. Photo by @kennithrosario
Uncovering Asia also showcased many wonderful investigations. Umar Cheema, for instance, revealed how shockingly few Pakistani MPs file tax returns. The work he put in, trawling through paperwork trying to match declared income to reality, was tenacious and inspiring. The hard work was worth it. The story went international.
Journalists from both NHK and Asahi Shimbun spoke about braving contamination and confusing data to cover the aftermath of the Fukushima nuclear disaster.
Asia is of course a vast, culturally diverse continent and this conference attracted 300 journalists from 33 countries. The realities faced by journalists in Pakistan are incredibly different from those faced by colleagues in Japan.
As director of the Global Investigative Journalism Network, David Kaplan helped put the event together. I asked him what particular issues Asian journalists face.
"The region has huge challenges. Criminal libel laws are still on the books in many countries. China and Vietnam are among the world's leading jailers of journalists. Traditional media are driven toward poorly reported scandals and sensation, not careful watchdog reporting. Journalists lack training and resources for in-depth reporting. Owners are too often in cahoots with the very people the media should be investigating. And it's bloody dangerous out there. Too many of our colleagues, from the Philippines to Pakistan, have lost their lives simply for reporting the truth."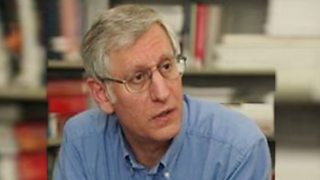 David Kaplan. Source: gijn
So what were Kaplan's highlights? Sheila Coronel's keynote was noteworthy, as it provided a powerful rebuttal to the notion of "Asian values": the idea that you quietly work toward consensus and don't rock the boat. There was an alternative tradition articulated by Coronel that became one of the most popular tweets to come out of the conference: "Speaking truth to power is an Asian value."

Coronel is Dean of Academic Affairs at Columbia University Graduate School of Journalism and founder of the Philippine Center for Investigative Journalism. She described the struggles faced by journalists across Asia, fighting to bring out the truth.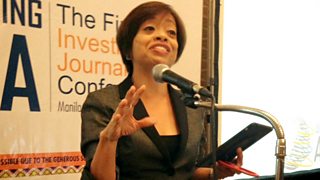 Sheila Coronel. Picture by Nils Mulvad
"The key challenges have to do with state and corporate interests putting pressure on journalists and constricting the space for accountability reporting. Many newsrooms are under-resourced and do not have the time, money and talent to invest in investigations. But despite these, there has been amazing reporting on corruption in high places and financial shenanigans in the corporate world."
Any journalists working on stories with an Asian dimension might find the tip sheets from Uncovering Asia useful. They are available on the conference website.
GIJN's next large-scale event will be the Global Investigative Journalism Conference, which will be held in Lillehammer, Norway, in October 2015.