Video of the panel discussion
You know that time-honoured job application advice to cram all your skills onto a single side of A4? Well, if it's for a job in journalism, it might be time to tear that up.
A BBC Academy/Online News Association UK discussion about what it now takes to be a 'digital journalist' left many in the room feeling a touch under-skilled. "Petrifying" was how graduate panellist Ellie Wright put it (but in a good way).
Richard Sambrook, director of the Centre for Journalism at Cardiff University and former director of BBC News, kicked off proceedings with a dig at the 'digital' in 'digital journalist'. The word is now redundant, he said, although there are, of course, plenty of new [digital] skills to learn.
To his list of "core skills" (law, accuracy and verification etc, plus social media and data journalism), Sambrook added technical know-how (video and website production as a minimum, coding if you like) and ideally, a specialism. That could be a language or expertise in business, economics or finance – areas he'd choose, he said, if he were starting out today.
Some things don't change. Journalists still needed to have "relentless curiosity", be "openly sceptical", able to spot PR and propaganda – in other words, be "information professionals".
And contrary to some headlines, there were more, not fewer jobs around, argued Sambrook. "If you're open-minded, flexible, confident, with change, you can build a great career," he said.
Panellist Aron Pilhofer, The Guardian's executive editor of digital, went in harder on specialism: "Learn a little about everything, but be passionate about just one thing," was his advice on standing out from the crowd. "You'll hit a ceiling, eventually, if you're Jack of all trades."
Among creative specialists he's hired recently into The Guardian's digital team were people who'd "never set foot in a newsroom" he said, including a data visualisation expert from Microsoft. (More of what qualifications count later).
Pilhofer was quick to acknowledge how tough the new expectations are: "What do you need to be a digital journalist? I usually answer 'everything'. That's sad, in some ways. You used to need to be able to type a bit, be able to turn a phrase," said the digital boss who, by his own admission, doesn't know how to cut a video.
But that's not to say old dogs can't learn new tricks. A two-day data journalism course had, he reported, melted away the scepticism of some cynical Guardian hacks.
With a team of six, Mashable's UK editor Blathnaid Healy, could less afford specialism, but did look for strong reporting and storytelling skills and crucially, for journalists excited by change. "I've never had a role that wasn't digital, and each one has been led by change," she said.
From the youngest member of the panel, moderator Steve Herrmann wanted to know how "terrifying" it was to have to be so multi-skilled, at the start of your career. "It's petrifying trying to keep up, but that's what I love," gushed energetic Cardiff graduate Ellie Wright, whose philosophy was to teach herself anything she thought she'd missed out on. (Remember that name.)
Interestingly – fresh off her journalism MA course – she rated "traditional skills" most highly.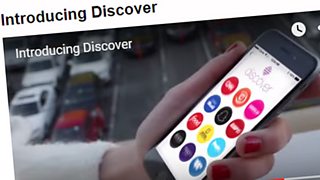 Snapchat Discover
There were questions about how news providers keep pace with numbers of emerging new channels. Not easily.
With its audience of early digital adopters, Mashable had to be there from day one on Periscope and Snapchat Discover, said Healy – the latter representing "a huge body of work every day", she admitted and requiring, even from within her small team, a launch editor.
Pilhofer's solution was to assemble the most flexible digital team possible. Despite being at the forefront of experiments in vertical video, those new platforms had been "a nightmare" – as big a deal as adapting online graphics for mobile, he said.
The audience in the BBC's New Broadcasting House, including journalism students and people with newly launched careers, wanted to know what the bottom line was in terms of the best qualifications to collect. Was an NCTJ still the gold standard? Do you really need to learn to code?
Music graduate Healy said she was more likely to look at the Twitter streams of prospective recruits and look for evidence of work they'd already done. The Guardian man also favoured a hands-on approach: "Some of the best people are entirely self-taught… There are lots of ways you can learn how the internet works," he said. A little coding and some scraping "wouldn't hurt".
Ellie Wright had no regrets about ploughing her savings into a journalism course at Cardiff - where nine out of ten graduates get jobs in the industry within a year, Sambrook revealed. "Networking" was the key there, he hinted.
There were other insights – and candour - from the BBC Academy's training head Mark Wray, a member of the NCTJ and EBU training boards. The Academy's broad aim, he said, was to open up online learning around digital journalism through its established website and, as of next month, via a new site that would encourage more "personal and social learning", eventually helping to build communities of interest. The new site's first steps will be to make all BBC Academy content and courses searchable in one place, with social features to follow.
In the journalism training industry, there were a lot of people "scratching their heads" about how best to equip people for the "moving target" of digital skills, he admitted. NCTJ accreditation still represented "a quality threshold" but journalism talent and potential didn't always come with formal qualifications, Wray accepted.
Some final takeaways from the panel:
- Aron Pilhofer: "Don't assume we know anything that's going to happen in the next three to five years."
- Ellie Wright: "Don't be too scared [as she was] to apply to newsrooms."
- Blathnaid Healy: "I used to think that, as an industry, we had a destination. Now we've not arrived, we're just in a state of flux."
- Richard Sambrook: "Career development is down to you, but that's OK."
Good luck!
Our section of digital journalism skills
More journalism skills, including reporting, interviewing and writing