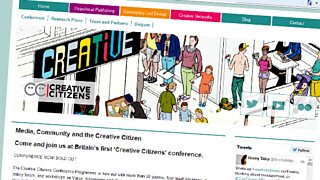 Creative Citizens website
Last week a host of academics and
community activists from all over the world came together for the UK's first 
Creative Citizens conference
. For me the highlight was the way the event and the
research project
behind it offered insights into hyperlocal initiatives and questions of creative citizenship.
From a journalistic standpoint, perhaps the most striking element of the research was the conclusions of the UK's largest ever survey of UK hyperlocal news producers. Covering publishers from 183 sites, the survey addressed everything from what subjects hyperlocal publishers cover to sustainability and investigative journalism.
Here are my five key findings:
1. Hyperlocal websites are an established part of the local media landscape
Nearly three-quarters of the sample of 183 producers have been producing hyperlocal news for more than three years, and nearly a third for more than five years. This demonstrates the potential longevity of their sites as well as the commitment of the teams behind them. Although new sites come and go, a significant number come and stay.
2. Audience size varies substantially
Although the median number of visitors to the sites was just over 5,000 monthly unique users, some reach much bigger audiences of between 10,000 and 100,000 monthly 'uniques'. Given that nearly a quarter of respondents run city or regional blogs, their potential audience is clearly greater than it is for the 16% which are focused on just a few streets or a small village.
This helps explain the wide variance in web traffic and social media followers; the latter of which has quite a long tail. On Facebook, for example, although 6% of respondents have more than 10,000 likes, 62% have under a thousand.
Even if from a small base, most of these sites are continuing to see audience growth.
3. Sites play an important role covering - and instigating - local campaigns
Size isn't everything and the impact of hyperlocal media (or indeed any media) should not be measured by reach alone. The breadth of topics covered by many hyperlocal websites demonstrates their role in generating civic as well as cultural value - a contribution to public life which is especially important at a time of increased localism and a reduction in the number of traditional local media outlets.
Hyperlocal media often covers subjects that have traditionally been the mainstays of local media, with issues such as planning disputes, cuts to local services, improvements to local amenities and holding local councils to account all playing an important role in their content mix.
4. Sustainability - in terms of income and time - is a challenge
Not all publishers are there to make money, but some are. Thirteen per cent say they generate more than £500 a month. Another 12% say they make less than £100 per month, which is enough to cover their costs but limits opportunities for technical and editorial expansion.
Interestingly, more than money, "not enough time available" was overwhelmingly the key barrier to expansion identified by publishers.
If time and money were no object, "more frequent content" alongside "more multimedia content" and "technical changes" were among the primary areas that publishers would like to focus on.
As it is, 57% of community news producers work up to 10 hours a week on their site; while 26% work between 11 and 30 hours. A minority work full-time, with 11% putting in more than 40 hours a week. Across the board these are substantial levels of commitment.
5. But is it journalism?
Labels are always a source of potential disquiet, but more than half of the survey respondents explicitly described their work as "local journalism", and almost half reported that they had journalistic training or experience of working in mainstream media.
Meanwhile seven out of 10 producers described their work as a form of active community participation, and more than half as an expression of active citizenship.
Whether you label it 'journalism' or not doesn't matter to me (although incidentally I think much of it is).
What's more important is to see how clearly technology is creating opportunities for active, creative citizenship and just how dedicated many practitioners are. The value this adds to the local media ecosystem and to society as a whole is something we should all be grateful for.
The report's findings can be downloaded as a PDF or viewed online.