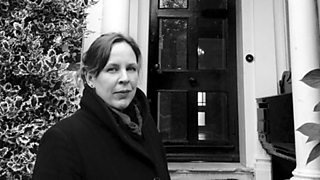 Sarah Dillon in a promotional image for BBC Radio 3's Literary Pursuits series
As well as lecturing in literature and film, Sarah Dillon presents the Close Reading feature on BBC Radio 4's Open Book programme and BBC Radio 3's documentary series Literary Pursuits, which returns on Sunday 29 May. Her double life is a balancing act, she says, between two very different worlds:
I always seem to be in entirely inappropriate situations when I receive life-changing professional phone calls. When I got the call from the University of St Andrews offering me my first academic post I was down on my knees, partially-dressed, halfway up a flight of stairs, scrubbing the banister of my future husband's bachelor pad. You try negotiating salary without the support of a bra.
When I got the call from the BBC to say I'd been selected as a New Generation Thinker 2013 I was down on my knees again, but this time clutching a trowel, sporting wellies and attempting to turn some waste ground into a semi-believable veg patch. At the same time I was trying to prevent my three-year-old from spoiling his lunch with a soil starter kit and keeping an eye on my 15-month-old who was, mercifully, sound asleep in her pushchair. Little did I realise how useful such multi-tasking skills were going to prove to be.
Now I don't use the expression "life-changing" flippantly. I'm not talking about finding a potato peeler that actually works, or hunting down a hypoallergenic hairspray which gives me great hair without permanent cold symptoms. I'm talking about a radical alteration to my trajectory in time and space.
Suddenly, I was going somewhere I never imagined in my wildest dreams. Think Dorothy suddenly transported to Oz. In fact, BBC Broadcasting House has become a little like Emerald City for me, a place that gives me brain, heart and courage, and then returns me back home, transformed. I wouldn't be at all surprised if next time I stepped out of Oxford Circus Tube, London's Regent Street had been repaved in yellow brick.
The New Generation Thinkers scheme – a collaboration between BBC Radio 3 and the Arts and Humanities Research Council to find academics capable of transmitting their knowledge and passions to radio and TV audiences – launched me into broadcasting. And it did indeed sweep me up like a cyclone.
My time on the scheme was heady and exciting, yes, but also disorienting and destabilising. Because academic scholarship and media broadcasting are radically different enterprises.
The former requires solitude, time, depth of focus, precision of reference and seriousness of argument and expression. The latter requires a certain lightness of touch, a sensitivity to the fashions of the moment, a careful balance of insight and entertainment.
Yet the first time I stepped into a radio studio, back in 2012 for a live interview on BBC Radio Scotland, I discovered a new passion. I guess some academics move into broadcasting for worthy reasons, in order to share their research with a wider audience than conference papers can reach. I'm delighted that that is an outcome of my broadcasting, but that wasn't what made me want to do it.
For me, it's more like an addiction: the speed, the demand for concision, intelligence and entertainment, the performance, the creativity, the collaboration – all that gives me an instant high, stimulating the reward centre of my brain, making me crave more.
Quite simply, I love it.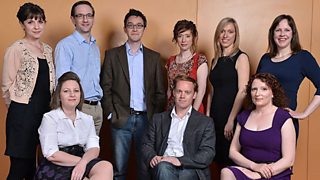 New Generation Thinkers 2013, with Sarah Dillon standing, far right
To this day, what I still find most difficult is moving from one world to the other, trying to adjust my body and mind to their different demands and rewards. Try settling back down to hours alone in the library after an intense day travelling with a producer, collaborating on a script in between interviews with amazing people and making visits to literary landmarks I'd only ever read about in books.
But I am beginning to train myself to move more easily from one to the other. I've found coffee and herbal stress relief products work best – they are at least legal uppers and downers.
Broadcasting has forced me to decide where my priorities lie and how far I am willing to step away from scholarship – from objective prose, from deferring to senior experts, from referencing, from taking a long time about things. It has forced me to consider how willing I am to give up sub-clauses.
Some academics are not willing to make those changes, to compromise, as they see it, their academic integrity. I see it differently. What works for broadcasting does not work for academia. What works for academia does not work for broadcasting. The trick is to recognise and respect this difference, and not to transfer standards of excellence from one realm to the other. That way sloppy scholarship and boring broadcasting lie.
So I keep them separate. But that doesn't mean that osmosis between the two does not occur. It does. I couldn't do what I do at the BBC without the knowledge and expertise I gain from academia. And I know I am a better writer and teacher back at university because of what I have learnt from broadcasting.
Ultimately, it's a question of balance. Unless you're Hermione in Harry Potter or have also somehow managed to get hold of a Time Turner – and if you have, please let me know where from – there are only a limited number of hours in the day. Broadcasting takes up time in which I'd otherwise be progressing my research; academic commitments mean sometimes I have to turn down broadcasting opportunities. I am constantly calculating if what gets declined, unfinished or deferred is worth what I'm going to gain putting that time to use elsewhere.
I never did finish cleaning my husband's banister. You could still see, half way up, the change from cream to dirty black where I'd downed tools the minute I got that job offer. And the veg patch I was working on when I got the New Generation Thinker call? Never finished, because six months later I got my job at Cambridge and we left that house behind. I did take the children with me though – there are some compromises even I'm not prepared to make.
The 2016 New Generation Thinkers will be announced at the Hay Literary Festival, beginning 26 May.
Our section on presenting skills
Women scientists: Don't put them on air unless they're the best