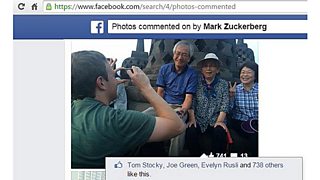 In part two of this blog, Paul Myers hands out new search tips as well as advice on backing up what you've found:
1. Searching for photo comments and 'likes'
Using Facebook Graph searches, people can see a list of the publicly viewable photos you have clicked 'like' on and read the comments you've posted.
Once again, this involves looking up a user ID and pasting it into a web address. Let's use Mark Zuckerberg's again. You will remember that his Facebook ID is the number 4.
So a Graph search address to find the photos he likes would be: https://www.facebook.com/search/4/photos-liked
A Graph search address to find the photos he has commented on (pictured above) would be: https://www.facebook.com/search/4/photos-commented
You can also do a Graph search to find the photos he has been tagged in: https://www.facebook.com/search/4/photos-tagged
2. Photos can be traced back to Facebook accounts
The images on web pages have their own file names. Some might be named after the subject (eg. centralpark.gif). Some might have been automatically named by the camera that took the photo (eg. dsc_1234.jpg). Others will have been named by a website's database.
You can see an image's name by simply right-clicking on it and saving it on to your computer.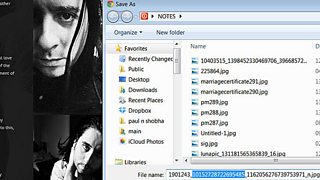 If you upload an image to Facebook or Instagram its name will be changed to something really long and complicated - usually consisting of three bunches of numbers separated by underscores and finishing with 'n.jpg'. So if you ever see an image named like that it's probably spent some of its life on Facebook.
The second bunch of numbers in this file name relate to the Facebook account the image was uploaded to.
The photo above belongs to the photographic artist Marc Blackie. If you copy and paste the second bunch of numbers into a Facebook.com web address you'll find the image in Marc's Facebook photo album: http://www.facebook.com/10152728722695485
Of course that's no guarantee of the subject or ownership of any photo, but this technique can provide useful clues in an investigation.
3. You can search the internet by profile picture
People often use the same profile pictures on various websites and social networks, so it can be handy to see where else they pop up.
You can do this by uploading saved pictures to services like TinEye and Google Images (click on the little camera icon in the search box).
If you are using Chrome you simply have to right-click on the photo and choose 'search Google for this image'. Google will then show you addresses of other pages where your chosen image appears eg. Twitter accounts, blogs and personal websites.
4. You can tell Google Images to only look on Facebook
You can restrict a Google Image search to Facebook pages by adding "site:facebook.com" to the search box. This also works with Google's reverse image search feature.
5. You can give yourself extra search powers
If you are prepared to do a little bit of research and some cutting and pasting you can make your searches more powerful and accurate.
Facebook introduced its new search back in December 2014, but it has many problems, not least its inability to specify search subjects. You can search for mutual friends of Dave Jones and John Smith but you can't specify which Dave Jones or John Smith you are interested in.
The previous Facebook Graph search allows you to specify people and pages in your search, with a lot more besides. And you can still use it. Find out how by visiting this guide and checking out these graph.tips.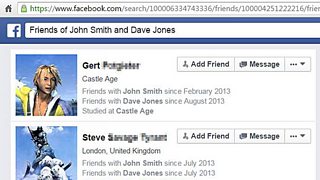 6. There are many ways to research topics in Facebook
The Facebook search box
You can use the search box but it tends to give you stuff your friends posted, so may not be much use for journalists.
If you are looking for a page rather than a person, you need to specify this in your search. For example, a simple search for "Steve McQueen" will find you pages about the 1960s US icon rather than the British director of 12 Years a Slave.
Instead, search specifically for the phrase: pages named "Steve McQueen". The results are radically better and include the British director as well as the US actor.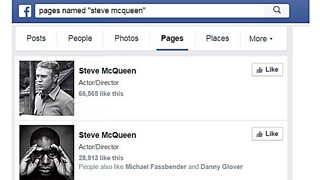 You may find this approach helps with all of your searches for people, places, photos, events etc. You can also search through your own Facebook posts by searching "my posts about" whatever it is you need to find.
Google
You can search Facebook via Google using the syntax site:facebook.com. You can specify which words should be in the title of the Facebook page by using intitle: followed by the word. For example, Facebook pages that are about Interpol but mention Sweden.
Graph search for topics by ID
You can find a reasonable cross-section of posts on a subject by firstly finding its page's Facebook ID code - for instance, the BBC News page has the code 228735667216 - and then adding this code to the address http://www.facebook.com/topic/ to get posts about BBC News.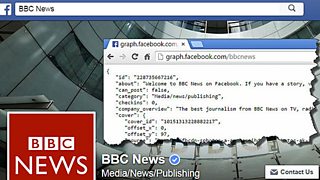 Find hashtagged posts
You can search for posts that have been hashtagged in Facebook by simply adding the tagged word to the end of this web address: https://www.facebook.com/hashtag/
Interestingly, you'd get different results by typing 'posts with the hashtag "clarkson"' into Facebook's search box, so it's worth trying that as well.
7. You should save pages and archive your own stuff
Facebook accounts often disappear within hours of someone making the news. People make their walls and photos private without warning. If you are investigating someone on Facebook, remember to save copies of their pages - anything pertinent to the piece and especially friends lists.
You can do this crudely by highlighting text and copying and pasting into a Word document. But it is much better to save each page on the profile as an individual web page. You can do this in your browser by typing 'control +s' and choosing a place to save the files on your computer.
Once this is done it's a good idea to open it up again and check that the page has saved properly. Some browsers save the wrong page. If you have problems switch to a different browser.
You may also want to save all the photos, posts and friends lists from your own Facebook account. This is easily done. Go to your general account settings, click on 'Download a copy of your Facebook data' and follow the instructions.
If you have any Facebook tricks, tips or 'secrets' to share, please get in touch @researchclinic.
This is an edited version of Paul Myers's original posting
Seven Facebook 'secrets' to make the most of what's out there
Cyber security for journalists: The internet is a hostile environment too
How 'neat' is Facebook's Graph Search? A few first impressions
Searching for people online: Advanced techniques
Searching for company data: Advanced techniques
Investigative journalism skills
Google it, by all means, but don't stop there
The Pope, the dictator, the fake photo: It pays to fact-check social media