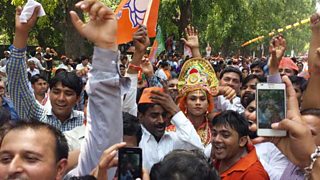 Indian election celebrations.
Earlier this year
I blogged
about the first editorial experiments that BBC News was about to conduct using instant-messaging platforms. Since then it's been a busy few months in which we have developed and run pilots on
WhatsApp and WeChat for the Indian elections
, on
BBM for the BBC Hausa service in Nigeria
, and Mxit during the South Africa elections.
We were the first major news organisation to try out editorial content on these platforms, so we were very much venturing into unchartered waters. Rather than setting targets for subscribers or audience reach, we used these pilots as proof-of-concepts to see if there was an appetite for these editorial products from users on these platforms. So how did they go, and what are some of the lessons we've learnt?
The Indian election
On WhatsApp we set up a BBC News account and invited users to add a mobile number to their WhatsApp contacts and send a message to it to subscribe to the service. Users were then put on to a 'broadcast list' where they would receive a maximum of three updates a day, in both Hindi and English.
We posted a variety of items. These included audio and video clips and daily text headline bulletins: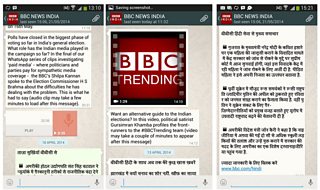 Emoticons are really popular on
social media
- particularly on instant-messaging platforms. Would they work in the context of a news story? We tried it on the story about the EU's Indian mango ban: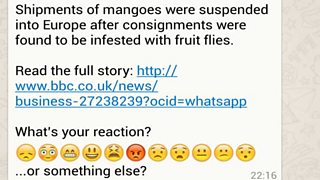 There are certainly
valid editorial arguments
about whether BBC News should really be treating news stories in this way, and whether this was the right story to test out emoticons on. However, subscribers really seemed to like the item - it had by far the biggest engagement, in terms of responses, of any item we posted on WhatsApp, with hundreds of people sending back their emoticon faces.
We also published 'infographics' of the electoral map of India, 'fact-a-day' images and bespoke text, picture and video entries from our correspondents across the country.
On election results day we upped the frequency of our posts to a live breaking and analysis service, where we ended up posting more than 20 items on the day.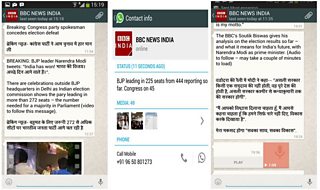 Content on the day included breaking news alerts and instant analysis from correspondents in our Delhi bureau. We took advantage of the status update functionality by regularly changing it with the latest seat count, so users could stay across the latest numbers in between posts by just looking at the account's status message.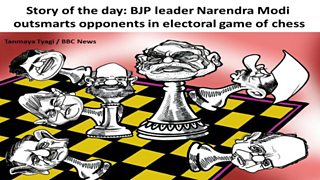 Cartoons and humorous viral videos seemed to be particularly popular among India users of WhatsApp, so - in another BBC News first - we posted a 'cartoon news alert' to represent the story of the day once the results had come through.
In addition to WhatsApp, we had set up a BBC News India channel on WeChat. This was limited to one update a day, where users would get a bundled set of headlines and stories that they could click through to, eventually taking them back to our News website if they wanted to read about the story in more depth: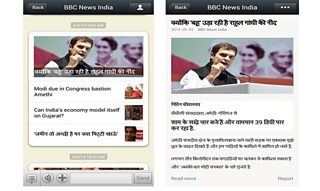 In addition, WeChat subscribers could go into the app to read the latest stories from different news indexes such as technology, world news and business news, which were powered by RSS feeds from our news website: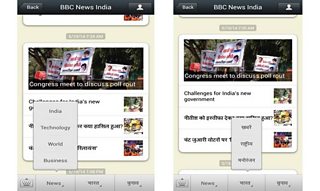 Away from the Indian elections, we have been running an ongoing pilot with our BBC Hausa service on Blackberry's BBM platform. A BBC Hausa account on the platform's new 'channels' tab posts news stories to subscribers. The content is deliberately simpler in format, with a sentence of text and a link to the full story, to take into account the limited data allowance that many Nigerians have.
Also in Africa, we ran a two-week pilot on the popular South African app Mxit. It is primarily used by young South Africans - an audience we were keen to engage with on the election. It's a platform that was built for feature phones, so the content was again very text-heavy. We were able to take account of interactive features like polls.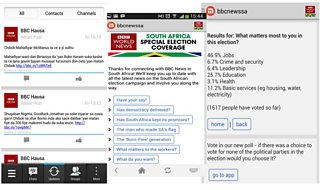 While a lot of the mainstream media coverage focused on the leadership of the country, the poll gave us an insight into what really mattered to young South African voters: jobs and education. This enabled us to focus more on the issue as part of our own news coverage of the election.
What we learned
For all of the services we tried out, the response from subscribers was very positive. Many said that they felt it was a more personalised experience. They also liked the immediacy of having the content pop straight up on their phone, but wanted more ability to choose what content they received.
In terms running these pilots, in most cases we were able to incorporate the extra content activity within existing social media team workflows. WeChat, BBM and Mxit all provided desktop versions and administrator tools to make it easy to post content and manage audience responses. They also provided some basic statistics to help us measure audience growth and reach.
The exception was WhatsApp, which doesn't have a desktop version or any statistics available beyond knowing how many people are on your broadcast list. All of the editorial activity - content creation, publication and audience engagement - had to be done via a mobile phone handset. This took a lot more time, although it also seemed to be the platform that offered the most direct engagement with the audience.
Over the next few months we're hoping to further develop our work on these and other instant-messaging platforms. From what we've done so far, there clearly seems to be potential for news content within these services - as long as the content is interesting, relevant and matches user expectations.
If you tried out any of these services yourself, I'd love to hear your feedback.
BBC College of Journalism blogs by Trushar Barot 
Safety with user-generated content
BBC College of Journalism's Hindi website
BBC College of Journalism's Hausa website