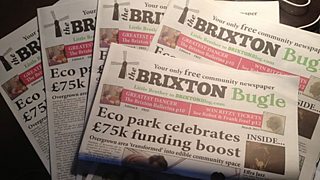 A few weeks ago I was fortunate enough to take part in a
conference
designed to help
launch
the
Centre for Community Journalism
, a new hub based in Wales which provides training for community journalists and research into emerging models of 'bottom up' journalism.
One area in which a number of these models engage is print. Like TV and radio, the death of this medium has been long predicted. But it is proving more resilient than many had foreseen - especially at ultra-local level where print can play a key role in meeting local news and information needs.
BBC producer Gareth Morlais, who publishes hyperlocal sites about Abergele and Colwyn Bay, sees great potential in this space: "So many hyperlocal gems have launched online-only in the past five years. It would be great if some of this content could be passed from hand to hand in print form via pamphlets left on shop counters, library racks, and even pinned to lamp posts." 
This is exactly what a number of hyperlocal publishers do. HU17.net, Hackney Citizen, Brixton Blog and the York-based One&Other are just some of those who have found that a good print product can attract advertisers, reach audiences who are not online and give renewed credibility to their web products.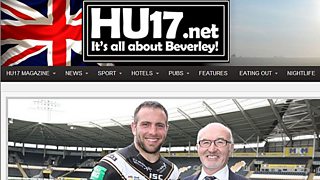 Stuart Goulden, managing director of One&Other, told me its bi-monthly print offering which launched in May last year is its strongest revenue stream and growing, issue on issue. "We heard that the industry average for a new title breaking even is two years [if it is going to at all] and we gave ourselves six months - thankfully something we achieved," he said.
And these examples also show that you can start small and grow from inauspicious beginnings. Speaking to me for an interview for the Online Journalism Blog, Paul Smith of HU17.net told how he launched a weekly magazine two years ago initially with just one £80 advertiser: the housing company Barratts, without which he doesn't think the magazine would have survived.
While Paul's magazine is a classic example of reverse publishing - in effect, a printed version of the website - some publishers started the other way around. The Hackney Citizen's newspaper launched in 2008, a year before its website. Founder Keith Magnum's basis for this was simple: "We think people read more content through the print edition."
Five years on and his 24-page newspaper is published on a monthly basis, with 10,000 copies distributed to an estimated 30,000 readers.
A newer edition to the printed ranks, The Brixton Bugle, a monthly local newspaper for people in Brixton, south London, also offers a 24-page issue, based on some of the best content found on BrixtonBlog.com. "We try to concentrate on 'web first'," said co-editor Tim Dickens, "but there are some stories, and particularly less time sensitive features, which we will hold back for the print edition and then put online. We usually try to keep the splash offline until press day."
Tim and the team distribute at least 3,000 copies to commuters getting on the Tube at Brixton station. Other copies are distributed at Brixton's monthly open air market, as well as directly to local businesses and offices. The rest go from branded distribution bins in large supermarkets, Brixton library, the recreation centre, the town hall, and from shops and cafes.
A key appeal for all of these publishers is the ability to reach audiences who aren't aware of their digital offer. "We now have readers who may not spend much or any time online; who are of a different demographic to those who read blogs and Twitter feeds," Dickens said.
Looking at these examples, content across the two media isn't identical, although, as Keith Magnum told me, "Most content is common to both. We're neither print-first nor web-first - we do different things depending on the content."
For Stuart Goulden print offers opportunities to carry "original and bespoke features, illustration and photography", but he and the others recognise that websites and social media allow greater exploration of issues and depth of discussion.
The result of this cross-promotion can be substantial both in terms of attracting audiences and advertisers. The Stoke-based hyperlocal PitnsPots (sadly currently mothballed after its publisher relocated) saw its web traffic double off the back of distributing 50,000 copies of a print edition.
"Primarily, print allows us to reach many more people in the Brixton community than was possible with online alone," Tim Dickens said, and "crucially it allows us to attract enough print advertising to be sustainable running both a newspaper and a website."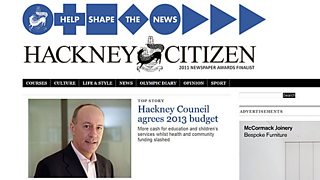 There are challenges of course, from learning how to use design software through to publishing deadlines. PitsnPots' Mike Rawlins admits: "While I am immensely proud of the publication that was put together, I'm not sure I would do a print run of a paper based on a website again, mainly because I can't get away from the fixation that I have with all papers, which is 'yesterday's news tomorrow'. I much prefer the immediacy of the web."
Paul Smith at HU17.net identifies a further challenge: "The hardest thing is getting access to the national advertisers. Pizza Express, Costa Coffee and companies like that really should be part of this project as they form part of people's lives here in Beverley." 
Whether this will change in time remains to be seen and, interestingly, the teams in Brixton and Hackney take a very different approach to the idea of national advertiser. But what is clear is that there's life in the printed medium yet.
Print is dead. Long live print.