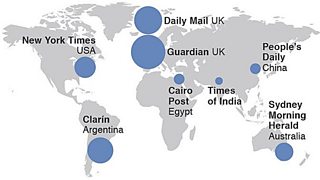 Last week we saw yet another tragic event, the Amtrak train crash in Philadelphia, where people on the ground provided the first pictures of a breaking news story.
I'm one of the co-founders of Eyewitness Media Hub: a non-profit dedicated to the research and development of resources that help newsrooms navigate the practical, ethical and legal challenges presented by eyewitness media. As part of our work we often collect screen grabs of good and bad practices, and on Wednesday morning I awoke to a stream of messages in our Slack group where my colleagues were sharing screen grabs of journalists on Twitter asking people at the crash site 'can we use your pic?'.
The majority didn't ask whether they had actually taken the picture, as a check to see whether copyright was held by that person; very few journalists displayed any concern about the wellbeing of the eyewitnesses; and many included complex requests about licensing the content for 'perpetuity' across all affiliates.
As the day progressed we shared examples of how news organisations were using these images. Often it was without credit, and sometimes videos were being scraped from YouTube and uploaded to different players with pre-roll ads.
These practices didn't surprise us. For the past year we have seen them occur on a frequent basis. But we decided back in September to undertake a comprehensive study into the ways in which news websites integrate eyewitness media. We had undertaken a similar study earlier in the year examining the ways in which broadcasters use eyewitness media. We wanted to see if the same patterns applied.
The study, led by our chief researcher Pete Brown, was published earlier this week. You can download the full report or explore an interactive microsite which highlights the main findings and case studies.
Eight newspapers were studied over 21 consecutive days. They were chosen because of their high readership and geographic location. The eight titles are shown on the map above - the relative size of the blue dots showing how much eyewitness media they published over the three-week period.
The research involved digitally capturing 27,802 pages and 'counting' whenever an eyewitness photo or video was used. In total there were almost 5,000 items published over the three weeks (4,971 to be exact).
The research showed some news sites rely quite heavily on eyewitness media - the Daily Mail and the Guardian in particular. On average, each day there were 30 pieces of eyewitness media on pages linked to from the homepages. When you control for the different number of pages per site, it means that on average there was one item of eyewitness media used in every 5.6 articles.
When this research was compared to our previous research on the use of eyewitness media by broadcasters, it was clear that news websites tend to use more than their broadcast partners. But the main explanation for this is the limitless space that exists online.
Digital publishers also have more formats to play with, such as photo galleries and live blogs. The freedom to 'embed' content, which obviously doesn't exist for broadcasters, meant that eyewitness media was much more likely to be credited and labelled by news websites.
One of the main findings from our previous research was that many journalists used the phrase the 'Wild West' to describe the current situation in terms of the use of eyewitness media. We certainly also unearthed some dubious practices by news websites which shows people treat content created by eyewitnesses in many different ways. There certainly aren't commonly understood frameworks for using this kind of media within the news industry.
For example, over the three-week period, Pete Brown discovered these nine categories of eyewitness media being treated in ways that cannot be deemed acceptable:
Permission being granted on the basis that the eyewitness be credited by name, only for the content to later be re-used without any credit
Credit for eyewitness media being solely attributed to a news agency despite the agency providing full crediting information and stipulating it be displayed alongside the content (eg. Credit: Storyful)
Eyewitness media being used (with credit) but without the eyewitness having responded to a permission request
Eyewitness media being used with credit but without eyewitness permission being sought or given
Eyewitness media being used without credit and without the eyewitness's permission having been sought
A YouTube video exclusively licensed through a news agency being scraped and used in a commercial player, without credit, by a news outlet that was not a client of the licensing agency
Eyewitness media being used without permission having been sought and with ownership attributed to the wrong Twitter handle
Credit for eyewitness media being solely attributed to a social media platform (Credit: Twitter)
Eyewitness media being used both with and without credit despite the eyewitness declining permission requests.
The research took a particularly interesting turn when Pete Brown started contacting eyewitnesses whose content had been published during the period of the study. Many were happy to talk and provided extraordinary details that we could not have known simply by studying the published content.
Some didn't even know that their content had been used by a news organisation; some were very frustrated by the way their content had been used; and some wanted to know whether they could have taken legal action about the way they were treated.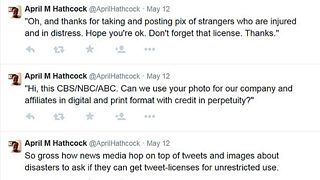 Overall, it was very clear that most eyewitnesses have absolutely no idea about their rights, and many were resigned to their content being 'fair game' once uploaded publicly to a social network.
The fact that the copyright exists with the person who filmed the events is not well known (this is backed up by focus group research with audiences due to be published very soon). Overall, even though the sample was small, the research exposed concerning evidence that some eyewitnesses had experienced great distress due to unethical practices by certain publications.
For each of the five case studies included in the write-up, we created a video alongside the details of the individual example. If you teach journalism you will hopefully find them useful in the classroom. And if you're just interested in this issue we hope you will enjoy them too.
Take a look at this video outlining the sequence of events and Twitter exchanges behind one case study. It examines a picture uploaded to Twitter by an eyewitness who attended a protest outside the BBC Scotland building. The woman gave permission for it to be used with credit. Unfortunately it was re-used without credit, and in a way she felt didn't explain the full complexity of the event.
Our two studies, examining the use of eyewitness media by broadcasters and now news websites, demonstrate that large news organisations rely on eyewitness media quite significantly. For almost every breaking news event, an eyewitness, often on their mobile phone, will have captured the first and most dramatic pictures.
Our research has shown a great deal of confusion within newsrooms about how best to use this type of footage, and ignorance about the legal aspects. Similarly, our research with uploaders and audiences in general is showing a high level of ignorance about the legal situation. But what we're also seeing - and some angry tweets (above) to journalists seeking permission after the Amtrak crash show this - is that there must be a better way to do this.
Newsrooms are risking reputational damage and the 'Wild West' that people describe is still a long way from being cleaned up.
Claire Wardle is the research director at the Tow Center for Digital Journalism at Columbia Journalism School. Back in 2009 she designed BBC News's training programme on social media.
The digital publication and distribution of this research has been generously supported by the College of Journalism and Communications at the University of Florida, the Hugh Cunningham Professorship in Journalism Excellence and the John S and James L Knight Foundation.
Our other blogs by Claire Wardle
Eyewitness media: Newsrooms must handle it better or risk losing out
UGC: Source, check and stay on top of technology
Safety with user-generated content