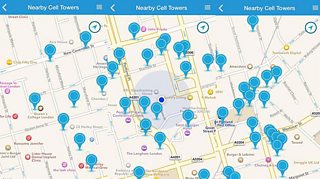 One of the advantages of working with a smartphone to record, edit and send footage is that you're almost certain to have it with you all the time and 'when the story breaks'.
The quality might not be quite as good as what you'd gather using a high-end video camera but unless you happen to have that with you you can't use it.
So the smartphone wins here.
That's the theory at least. One of the contradictions of mobile journalism is that in practice it is not always as easy to use your device on that big story precisely because so many others are using theirs too.
I want to explore the options available to journalists when the mobile networks are overloaded.
Text messages need a lower data signal to be sent, as they can be carried by 2G and 2.5G. So if the 3G networks are down or overcrowded, in theory you can share news by text.
Texts, though, aren't really 'broadcast', because they tend to be one-to-one. So, while you could keep a newsroom colleague updated, this method is not suitable for sharing information more widely. Additionally, you wouldn't be able to send any videos or photos with your text this way.
There's a service on Facebook whereby you can send an SMS which will then appear as a status update. Similarly, if you're on the 3 network in the UK you can send a text to 86444 and that'll appear on Twitter.
Back in February this option vanished somewhat suddenly for many BBC journalists whose business phones use the O2 network when users were given 48 hours' notice of the withdrawal of tweet-by-SMS. It had long been a staple way for journalists to tweet and receive tweets in locations where the mobile network was too slow or overcrowded for smartphone apps to run.
If you're on 3 then congratulations: the fact you can still send texts which appear on Twitter is something most at the Beeb can no longer do.
So what are the remaining options?
The simplest, but one with a limited chance of success, entails going into 'airplane mode' (or your device's equivalent) and then coming out of it again. This forces your phone to lose and subsequently reconnect to the network. There's a chance it might find a data signal - but equally you might have the same problems as before.
One extra tip: if you only have 2G (often too slow for many apps to use) try the 'into-airplane-mode-and-out-again' trick and your device might latch on to a 3G signal (or even 3G - 4G). It's worked for me on a number of occasions.
It's possible that not every mobile phone tower will be overloaded or out of action, so you could walk a short distance to try to find a different one. This might take you away from the scene of the story but it's a trade-off: would you rather be where the story is unfolding but with no way of telling people about it or a short distance away with a decent signal?
One app worth looking at for this is OpenSignal. This free app on Android and iOS can show the location of mobile phone towers. As the map (above) shows, there are plenty to choose from within a short walk of the BBC's New Broadcasting House in London, for instance. (It also has an option to show where wi-fi can be found.)
If your device is unlocked, you have the option of using more than one sim card to try to get a data connection. Just because the data signal for one network is down or overloaded doesn't necessarily mean they all are. (Phones that are bought on contract are usually tied to the network carrier for the duration of the contract, but, depending on the network, you might be able to get your phone unlocked before it ends - sometimes for a fee, sometimes free.)
Similar to owning an unlocked device would be carrying an unlocked mi-fi - a palm-sized unit that connects to 3G or 4G networks. Another advantage of a mi-fi - in addition to having a choice of networks via various sim cards - is that several internet-enabled devices (phones, tablets, laptops) can connect to it at the same time.
If none of the above works, it might be time for drastic measures. Owners of most Android phones should be able to extract the SD card on which their footage is stored. This can be taken to a nearby location from where the material can be sent.
However, this may leave you with no way to continue to record material on your device unless you have a back-up memory card. It's also not even an option for owners of the very latest Androids, many Windows Phones, and of course all iPhones, because these devices are fully enclosed so the storage isn't removable. Here, the entire phone would need to be taken to the feed point or somewhere with a better signal.
If you have an iPhone with Lightning Connector (iPhone 5 and newer), there are gadgets you can buy which can be plugged into the phone, the material can be transferred to the unit, and then the unit itself, not the phone, can be taken to another location for the material to be fed.
You'll obviously need to have brought the gadget with you, but at least if it gets couriered away you can still use your phone as normal. The units themselves aren't that cheap though - at around £50 for 16GB.
The final option has echoes of the days when reporters wore hats with a card saying 'press' tucked into the brim. Back then journalists would knock on the doors of random strangers asking to borrow their telephone to make an urgent call to the newsroom.
The 21st century equivalent still involves knocking on doors, but this time asking people if they'd mind you plugging into their wi-fi for a short while. This may not work in all circumstances: an earthquake, for example, that has knocked out the mobile data networks may have had similar impact on wi-fi. But if not, using domestic or commercial wi-fi - either out of the goodness of the owner's heart or for a small payment - is probably the best method to send content from a location if the mobile networks can't be used.
My thanks to Glen Mulcahy, Guy Pelham and Chris Smith who contributed to a discussion on this subject on the #MojoCon group page on Facebook.
Our other smartphone journalism blogs by Marc Settle
More filming and recording skills, including on smartphone
Smartphone broadcasting: 5 live's Nick Garnett
Our blogs on mobile broadcasting by Nick Garnett