Ever since the political changes of 2010-11 there has been interest in the role of social media in the Middle East. See for instance Malcolm Gladwell's "Small change - why the revolution will not be tweeted",  John Pollock's "Streetbook - how Egyptian and Tunisian youth hacked the Arab Spring" or Clay Shirky's essay on "Technology, the public sphere, and political change".
Whatever your view, it is clear that social media in the Middle East is growing rapidly. Anyone with an interest in the Arab region needs to be aware of how technology is shaping attitudes and behaviours, particularly amongst young people.
Last month saw the publication of the Dubai School of Government's 5th Arab Social Media Report which features demographic data, emerging trends and the latest adoption figures for three of the largest social networks: Facebook, Twitter and LinkedIn.
Here are the headline figures:
Facebook: There are now 54.5 million users in the region (up from 45.1 million last year)
Twitter: 10.8 million tweets come from the region every day. Some 73.6% of all tweets from the region are now in Arabic
LinkedIn: Users up to 4.7 million
YouTube: 285 million videos are viewed every day - the second-highest regional consumption in the world. Across the Middle East, two hours of video are uploaded to YouTube every minute.
While these figures sound impressive, as the chart below shows, penetration of social networks is still relatively low in many countries, suggesting plenty of scope for further growth.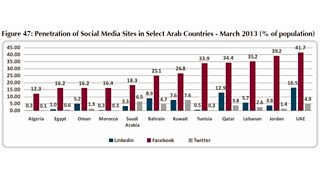 Much of the growth is likely to be dominated by Saudi Arabia and Egypt, the region's two most populous countries.  
With a population of 82.5 million people, Egypt makes up 20% of the Middle East and North Africa (MENA) population and is home to more than a quarter of all Facebook users in the region. Even though 1.5 million new Egyptian users have joined Facebook since January, the 14 million Facebook users in that country still represent only 16% of the population.
Similarly Twitter also enjoys relatively large user numbers in Egypt (the second highest in the region at 519,000), but this is just 0.6% of the population. As with Facebook, there's considerable potential to grow this market.
In contrast, Saudi Arabia is already a more digital society. Home to 28 million people, mobile phone penetration levels exceed 200%. That means there are more than two active phones (or registered Sim cards at least) for every person who lives there - which may go some way to explaining why half the YouTube consumption in Saudi Arabia is done via a mobile.
As well as leading the way mobile penetration, Saudi Arabia has more people online than any other country in the region. In fact, its 8.5 million internet users are akin to the combined numbers online across all of Syria, Jordan, Kuwait, Lebanon and Oman.
What's striking about Saudi Arabia is the relative popularity of Twitter. In contrast to Facebook, which saw 500,000 people in Saudi Arabia drop off the network this year (suggesting that Facebook fatigue may not just be a Western phenomenon), the number of active Twitter users in the country more than doubled - up by 128%.
Saudi Arabia now has 1.9 million Twitter users, more than a million of whom joined in the past year. This group makes up just over half of the Middle East's 3.7 million Twitter users, and they are responsible for almost half the tweets produced across the in the region each day, 90% of them in Arabic.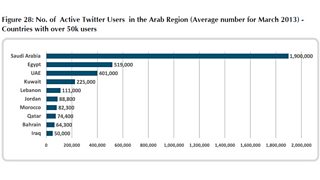 With less than 7% of the Saudi population tweeting, it will be interesting to see if this rapid growth can be sustained or if users will simply migrate to other platforms, as seems to have happened in the past year with Facebook.
Elements of this story were reported in the Middle East Digital Digest Q2 2013, a round-up of digital and tech stories (English version; Arabic version).