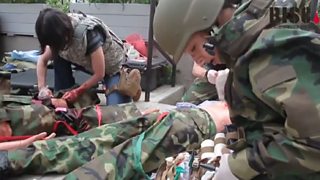 Ten years ago our industry came together to create the
International News Safety Institute
. Its aim was to create a culture of safety in journalism and to support newsgatherers working in hostile environments.
In May 2003, when INSI officially launched, the focus of many of us was on Iraq. That war took the lives of too many of our friends and colleagues. It also changed many lives - including mine.
While working for the BBC in Iraqi Kurdistan, I stepped on a hidden anti-personnel landmine which ripped off part of my right foot. In the confusion of the seconds following the blast, the cameraman I was working with - Kaveh Golestan - also stepped on a landmine, but he then fell on to a second device. Kaveh suffered massive injuries and died where he fell.
I was medevac'd back to the UK but my injuries were too severe for my foot to be salvaged and my right leg had to be amputated below the knee.
So at the same time that INSI was being launched I was beginning the long process of recovering from the physical - and psychological - injuries I'd sustained while reporting conflict.
Ten years on from Iraq, our industry has changed. We are - as the theme of this year's News Xchange conference highlights - facing new and challenging realities.
Our newsgatherers are increasingly freelancers. They're often less experienced than their predecessors. Many come from the region they're reporting on. And sometimes we don't even know their names - they're anonymous uploaders on a YouTube channel or a Facebook page.
Digital technology now means that anyone with a laptop and a few hundred dollars' worth of equipment can jump on a plane to Beirut or Cairo and try their hand as a foreign correspondent - and, as we know, many people are.
Conflict has always been an enticing proving ground for ambitious young journalists. So what is the new reality in 2013 that wasn't the case in 2003 or even 1973?
I would argue that, for many journalists beginning their careers, their potential exposure to risk has rarely been higher, and yet the help and support they receive from the news industry has rarely been lower.
In the New York Times last week, its former executive editor Bill Keller called these new practitioners of global reporting "the Replacements". He said: "They gravitate to the bang-bang, because that's what editors and broadcast producers will pay for. And chances are that nobody has their backs."
This is one of new realities we are faced with - and, as someone who has been injured in the line of duty, it concerns me enormously. Because I ask myself what I would have done if I had been one of "the Replacements" when I was injured a decade ago. Who would have had my back and, let's be blunt about it, who would have paid my hospital bills?
The last foreign troops left Iraq almost two years ago, by which time much of the international press corps had already moved on. But for some of us the impact of that war will be felt for the rest of our lives.
Every day, I have to put on the artificial leg that I now wear because of the landmine that took my foot. Every day, the families and friends of more than 200 media workers killed during the course of the conflict mourn their loved ones.
Every day, fixers and translators who helped us worry that they could suffer reprisals because they worked with the Western media.
By this time next year the last Nato combat troops will be leaving Afghanistan. In time even Syria will fade from the news agenda. But each conflict - past, present and future - will leave visible and invisible scars on some of those who report them.
And those of us who bear the scars are the lucky ones - because at least we came home alive.
In the UK, the involvement of British troops in Iraq and Afghanistan has refocused attention on what's known as the military covenant. It's the code which sets out the safeguards and support that members of the armed forces can expect in return for putting themselves in harm's way.
I'd like to float the idea of a media covenant - an understanding that safeguarding the physical and mental well-being of newsgatherers - regardless of their affiliation or employment status - is the responsibility of all of us.
The freelance community is beginning to play its part in adapting to the new realities that are being discussed at News Xchange this week.
Reporters Instructed in Saving Colleagues - or RISC - is providing hands-on first aid training to journalists (pictured above) who can't afford traditional hostile environment courses.
The Frontline Freelance Register was launched this summer in London and New York to encourage co-operation among freelancers working in difficult and dangerous places.
And of course organisations like INSI, the Rory Peck Trust, Reporters Without Borders, the Committee to Protect Journalists (CPJ) and others continue to do great work on behalf of front-line newsgatherers.
These initiatives need and deserve our full and unwavering support. Because, if one of the new realities of our profession is that we're going to expect freelancers to take an increasing share of the risks, isn't it only fair - and indeed morally right - that those of us fortunate enough to work for major news organisations take a share of the responsibility?
The new realities facing us are indeed full of promise. But let's not lose sight of one old reality:
More than 1,000 journalists have been killed since 1992.
Hundreds of newsgatherers murdered with impunity for asking difficult questions in dangerous countries.
Limbs lost and lives changed forever.
This is an edited text of an address Stuart Hughes gave to news industry executives at the News Xchange conference in Marrakech, Morocco.
BBC Middle East editor Jeremy Bowen, ITN head of newsgathering Tim Singleton and Sky News head of foreign news Sarah Whitehead will be among the speakers at a special BBC College of Journalism event on 21 November designed to share expertise in Working in hostile environments.
Unprepared, inexperienced and in a war zone
Journalists in danger: signs of a breakthrough?
Reporting: Foreign assignments
College of Journalism's safety content
A discussion of the risks to inexperienced journalists covering conflicts