This was one of the more unusual newsgathering trips I've ever been involved with – an experiment with BBC R&D and BBC News Labs. Not least because quite by chance we chose the busiest of days to start experimenting.
Had it not been for a strike by disgruntled French ferry workers this would have been another familiar day of cat and mouse for the migrants, lorry drivers and French police.
Instead, with the port of Calais closed and thousands of young men converging on the approach roads to the Eurotunnel terminal, their efforts to hitch a ride to England were played out in front of dozens of watching cameras.
Including ours, an all-seeing array of GoPros looked distinctly odd amid the more traditional crews.
I called it "The Blob".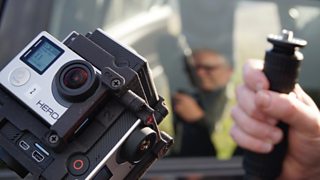 The Blob
The idea was to see whether a 360/immersive film would capture something that a regular news package could not.
Could immersive journalism bring a new degree of intimacy and connection to the images of migrants trying to board trucks and the dismal conditions in which they live when they're not making their desperate efforts?
The technology is new and relatively untested in a breaking news environment. We couldn't be sure what we would get.
But capturing good audio - interviews, pieces to camera and all-important ambient sound - would also be important. I think it's fair to say we didn't quite crack this part of the puzzle.
But as events unfolded rapidly around us, and editors in London realised they had an extra crew on the ground (which resulted in a steady stream of demands for interviews), we also had a crash course in how to integrate "The Blob" into the rest of our newsgathering efforts.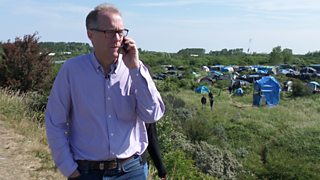 Thinking about the competing demands of radio, TV and online can induce a headache at the best of times. But when you're dealing with a radically new way of 'seeing' the news it's another thing to think about.
A good cameraman will capture the sense of place through a combination of well-executed shots and expert editing.
"The Blob" will demand a different kind of expertise, but can offer the viewer something radically different too.
Where will it perform best?
From our experience in Calais, it's probably at its best in crowded, tight spaces. In the middle of the sprawling squalor of "New Jungle", the viewer can spin around on the spot to see what this sort of camp really looks like.
Explore the makeshift shelters in the migrant camp in a 360 video. Use the navigation tool to have a look around. You can also click and drag or if you're using a mobile simply move the phone around.
N.B: the video must be viewed in Chrome desktop or through the YouTube app on mobile devices.

By the side of the road, with migrants boarding trucks 20-30 yards away, the GoPro's extreme wide angle leaves a lot of empty foreground (but, again, you can spin around and see that the "Jungle" is right behind you).
And for the crew: it's no good hiding behind the cameraman in order to obey his barked command to 'get out of my shot'. Unless there's a handy tree to hide behind, you're always going to be in shot.
We'll need to carry out some more road tests before we figure out how best to use this new technology and what its 360-degree product can offer the viewer. But our trip to Calais felt like a glimpse of something that will soon be with us all.
Paul Adams worked with Zillah Watson, editor BBC R&D, Peter Boyd Maclean, director, Peter Passmore and Alice Doyard.