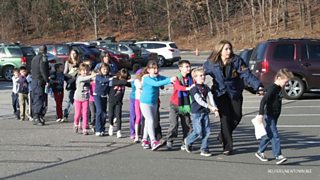 Children are led to safety after the 2012 shootings at Sandy Hook Elementary School
An emotional President Obama recently turned the eyes of the world on his country's gun laws and the many victims of mass shootings in the US. Such events can take their toll on journalists too and as Ruben Garcia discovers, particularly on local reporters closest to the story.
Three years after 20 children and six adults were gunned down in a Connecticut primary school, the name Sandy Hook remains synonymous with the curse of school shootings.
University of Oregon graduate and former North East Public Radio (WAMC) reporter Charles Deitz conducted his thesis on mass shootings, most notably the Sandy Hook Elementary School attack. Rather than focus on the shootings themselves, Deitz looked at how journalists were affected.
Journalists who cover horrific events often finish the job, go home and then they're onto the next story: "There is no debrief," he says.
"There's no 'what could we have done better?' It's over. It can be really traumatising for a journalist to be close to that. Some of the people I spoke to were heavily affected by events six months later."
Jenn Smith is one. A reporter for The Berkshire Eagle, she was contracted by The New Haven Register to cover Sandy Hook. Although she wasn't on the ground reporting, she was still personally affected by the nature of the story – not least because she is a former teacher herself.
Jenn was assigned to find information about seven-year-old victim Daniel Barden and discovered an online blog written by the boy's father Mark. The blog featured stories about Daniel, from his birth to a more recent experience in which Mark lost Daniel in a grocery store – eventually finding him holding open a door for an elderly shopper.
She emailed the grieving father, hoping for a reply, but understanding she might not get one. Checking her email in the early morning, she found a message from Mark thanking the local reporter for making her approach in a sensitive way. He'd also sent a statement from the family and a photograph.
"It was heartbreaking," Jenn said. "Of all the things he could have been doing at 1am after he'd just lost his youngest son."
Returning to work wasn't easy. Jenn's first assignment after the shooting was to cover a story about a new music programme in a local elementary school. Being around young children so soon in a routine school environment was "jarring" she admits.
That said, it's the anniversary of the shootings that the journalist finds especially perplexing: "14 December used to be an arbitrary day for me and now it's something I think about much more. It's a day now for me to be reflective."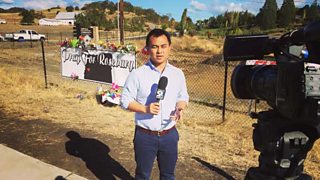 My personal connection with this kind of story began when nine people died in Roseburg, Oregon, a small town of a little over 20,000 people. It was another 'mass school shooting'.
The gunman killed himself. The date was 1 October 2015.
Three years earlier I'd been an intern at the local TV news station KEZI 9. One of my colleagues was Chenue Her who was in his first year as a reporter. In the summer of 2012 the news was often dry, there were no homicides, no car crashes, and certainly no school shootings.
Fast forward three years and Chenue and I were discussing the last thing we ever thought would be on the news agenda in Roseburg. Such a tragic event left me wanting to find out what it had been like for him to be caught up in a national news story on his own patch.
Chenue was visiting his parents in Minneapolis when he first got word of the shooting at Umpqua Community College: "I was scrolling through Twitter," he recalls.
"I didn't think it was real. It was hard to grasp, I ended up flying back to Oregon that night."
Chenue (pictured above reporting from Roseburg) landed at the small regional airport in Eugene in the midst of huge interest from journalists all over the world. Next morning he made the 113km (70 mile) drive south to Roseburg: "Tons of networks were down there," he describes. "Seattle, Portland, California stations and major networks like CNN, NBC and the BBC. It was a huge media circus".
As a reporter, Chenue's job was to find angles that were not focused on the main investigation: "We're local, we know the area. My responsibility was to dig up those stories".
Amid the chaos, Chenue was given a lead on one of the victims, a 57-year-old mature student Kim Dietz. According to a GoFundMe page set up for Kim's family, she was in an adjacent classroom and went to investigate the commotion. "She confronted the gunman, was shot twice, and crawled back into her class to lock the door," according to the website. Kim died shortly afterwards.
Chenue learned that Kim had worked as a caretaker at a vineyard 40km (25 miles) south of Roseburg: "I remembered interviewing the owner two years ago and I still had his number. He was a little hesitant to talk at first, but it played in my favour that one of my good friends happened to be a really good friend of his too".
When a tragedy strikes, friends and family of the victims involved are often wary of talking to the media; however, for KEZI 9 News journalists, being local and familiar to the community was a huge factor in getting people to open up to them.
"On a personal level it was hard," Chenue admits. "It's a small community, everyone knows someone affected by the killings. And here you are, trying to talk to people, but not wanting them to feel like you're exploiting them for a story.
"That was the hardest part… trying to let people know that you're just doing your job, but will tell their story in a way that makes it valuable."
After each day on the story, Chenue and his photographer would make their way back to a hotel and unwind: "We would just talk about it. You have to debrief," he added.
Months on from these events the community is slowly recovering from the shocking actions of one of their own. Chenue is doing better now having recently moved across the country to Virginia. His "life changing" experience in Roseburg, however, stays with him.
Our safety section includes content about trauma in journalism